Swaad 'Anu'saar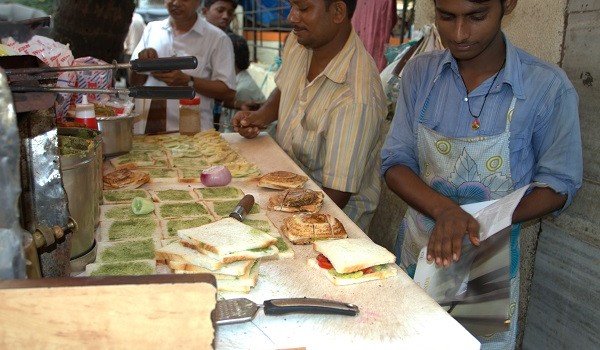 Published on December 10th, 2013
0
Nashta bole toh, sirf Mumbai mein – Part II
We continue with our gastronomical journey to discover Mumbai's favourite chai and nashta items and what makes them so special.
by Anurita Gupta
Part 2
Last week, I outlined a few tea time snack items that Mumbai absolutely loves. In this column, I continue in the same vein.
Mumbai street sandwich: Tired after a meeting and heading to another with no time on hand? There would surely be a sandwichwala just within sight, making an enticing list of gharelu sandwiches. The small tapri will normally have surprisingly high standards of hygiene, with vegetables nicely peeled and ready for dicing stacked on one side. Masalas and chutneys will be placed in steel boxes on the other side, and in between will be an assembly board which would also have butter and cheese sticks on it.
The most famous sandwich is the veg grilled sandwich, stuffed with such popular veggies as tomato, onion, cucumber, beetroot and capsicum that are thinly sliced and placed between three slices of bread buttered liberally. It is served grilled or with a nice helping of mirchi green chutney and ketchup. The other famous street snack in the sandwich category is chutney cheese toast. As the name suggests, it has a slather of coriander and aamchoor chutney on a crisp toast which is then loaded with a mountain of grated processed milk cheese. This is then grilled and then served with some more green and red chutneys.
My favourite chutney cheese toast is to be found next to Matunga station. The guy really puts cheese dil khol ke. For the true blue Mumbai sandwich experience, try Swastik Sandwizza, Santacruz market. Their veggie sandwich has crowds swarming outside this tiny shop to get a bite.
Khaman dhokla: The most known Gujarati snack after jalebi-phaphda is the fluffy gramflour tea time snack, khaman dhokla. Most Mumbaikars relish the khaman or gram flour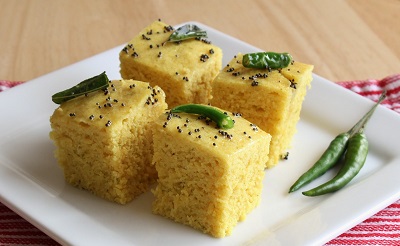 dhokla with pickled chilies during breakfast or tea time. While the basic garnish is tempered mustard seeds and coriander, there are many inventive versions available with dressings of sev, three kinds of chutneys, and coconut.
You must try khaman dhokla with a strong chai – your day will get a bit lighter. In fact, while on Gujju snacks, the other Mumbai favourite is sev gathiya, which is a deep fried gram flour creation. Mixed with masala roasted dal, it is also known as farsan that is either served with tea or had as an accompaniment with misal pav.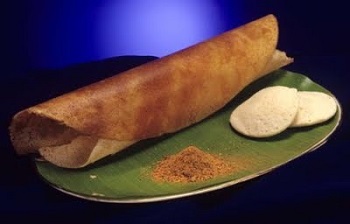 Dosa and idli: There is one more meal between meals that Mumbai happily gorges on, especially in the South Indian part of Mumbai, i.e. Matunga. While the small tapris of these South Indian savories are a common sight everywhere in the city, they take a bit more time to make than the sandwich or the bhel, but it is worth the wait for sure. Put it down to my 'corrupt' taste buds, but I think no one makes dosa like Mumbai does, not even the South of India.
I love South Indian food in Mumbai and therefore choose to snack on saada dosa or cheese masala dosa very often. For morning Nashta, it is a plate of idli and crisp vada doused in teekha tangy sambhar. The tapri usually comprises a big rectangular hot tawa on which 4-5 dosas or uthapams are made together. The fermented batter made of white urad dal and rice is loaded in big patelas and kept right next to the fire.
I think the most enjoyable part, other than eating the dosa itself, is to see it getting made. Catch the cook putting a ladleful of batter on the hot skillet and vigorously spreading it into a round shape. I also love the small katories of pumpkin and nariyal chutneys served with hot sambhar along with dosa. This snack is enjoyed well with a nice south Indian kaapi.
South Indian kaapi: The South Indian filter coffee or kaapi as it is popularly called is the best accompaniment to fresh vadas and idlis, or in fact, just about any time of the day that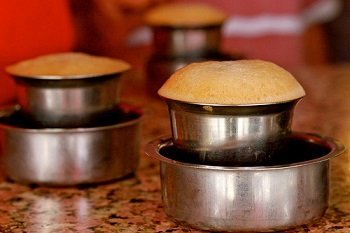 needs a bit of extra zing. Made from coffee beans coming from various plantations in South India, kaapi is more than just a drink for your breaks or tired evenings. As much as the chai is celebrated as the iconic beverage of India, the kaapi is the 'cultural icon' of South India. It is a ritual of sorts to offer coffee to a guest in South Indian households.
Coffee came to India in the 17th century and became a popular beverage under the British Raj. Today, it is so ingrained in our food culture that one can't think of starting the day without a cup of coffee.
Coming back to South Indian filter kaapi, the only sight that comes to my mind after the strong aroma is the thambi pouring a hot cupful from one steel glass into the other like a juggler. That's what gives our own Mumbai kaapi the much-loved froth and foam. Try it at Madras Café, Matunga and you shall bid Starbucks goodbye J
With that, I come to the end of my list of Mumbai's must-try nashtas. Make sure you never let a day go by without relishing one or all in your chai break or while walking through the streets of the city. After all, why go for pizza-pasta when you have Mumbai ka tasty nashta?
Anurita Gupta is a media professional who is passionate about two things – food and radio. Her love for all things food makes her a foodie with a cause.
(Pictures courtesy www.oishiirasoi.com, www.uma-culinaryworld.com, www.vegrecipesofindia.com, heavenlyblisssalonformen.wordpress.com)