Swaad 'Anu'saar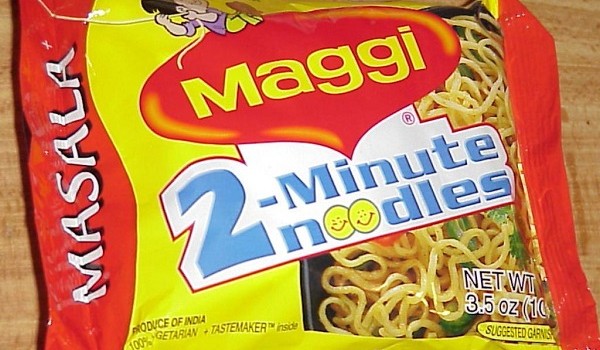 Published on June 9th, 2015
0
Finish your Maggi packs in style
We give you three quick, yummy ways in which you can dispose off your leftover Maggi noodles packets. Tuck in!
by Anurita Gupta
The whole point of cooking Maggi noodles is that they are so easy to make – and hence, they've made cooks out of most of us! But alas! Our lovely 2 minutes of joy have come to a halt.
There's no comfort food more delightful than our bowl of instant Maggi noodles. Whoever is a regular Maggi noodles eater in this country buys more than one pack at a time. But with this commotion over lead poisoning and high levels of MSG in each pack, we are left wondering what to do with the extra packs we've purchased.
Let me present three ways to finish off your Maggi noodles packs in style. May be with these, you will feel a little less guilty enjoying them!
Maggi ki bhajiya
The rains are arriving in the city, and what better way to welcome them than with crisp Maggi bhajiyas? At our home, this used to be the recipe to follow for some leftover, mushed down Maggi sitting in the fridge.
Simply make the bhajiya batter with besan (chickpea flour), water, season with salt, pepper, ajwain, heeng and of course, some nicely chopped onion, green chilly, and coriander. To this batter, add the cooked Maggi and fry in hot oil. You would be surprised to see how much more delicious Maggi bhajiyas taste in comparison to the usual onion and potato ones.
Maggi masala omelette
This is my original recipe that came into being with just an egg remaining in the fridge and half a packet of Maggi in the kitchen on a hungry afternoon. Masala omelette with Maggi? Ho sakta hai!
Simply whisk the egg and add the Maggi tastemaker to taste. Try not to put all of it in at one go. In a wok, heat up some oil and fry the uncooked Maggi noodles to a crisp. Once done, in a pan make a bed of this crispy Maggi and pour the egg on top. Leave it on medium heat so that the base doesn't burn while the egg cooks. Once the egg is done, take it off the heat and enjoy this crispy crackly omelette!
Maggi ka Chinese pulav
Instead of fried rice, enjoy Chinese Maggi instead. For this dish, fry up some chillies, chopped onion and capsicum along with some finely cut boiled potatoes,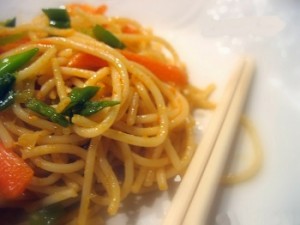 green peas and French beans. To this, add some soya sauce and vinegar. Now boil Maggi as per instructions and add to the mixture. Lastly add the tastemaker as per taste. Mix everything very lightly so as to not make a mush out of the noodles. Serve in a bowl and enjoy with chopsticks.
While the above are some interesting twists to Maggi, one cannot deny that we all have some wonderful memories attached to this bowl full of happiness. My most cherished memory is from one of our trips to the hills. My cousins and I were on our way to Manali from Delhi and on the way it started raining. The rain brought with it sudden hunger pangs, and we started looking for a place to eat on the road. Finally, we found a small shack with a Himachali lady making Maggi in a dented aluminium pan. I found out that day that Maggi noodles with elaichi chai is a brilliant combination. The combined aromas wafting around us instantly put us all in a super happy mood and ensured that every speck of the noodle was cleaned off the plate.
While we bid adieu to that wonderful taste, let's hope the memories it has created over the years would make up for it! So long, Maggi!
Anurita Gupta is a media professional who is passionate about two things – food and radio. Her love for all things food makes her a foodie with a cause.
(Pictures courtesy greatermalaysia.com, khanakhazana-1.blogspot.com, foodfactory.amit4u.com. Images are used for representational purposes only)