Swaad 'Anu'saar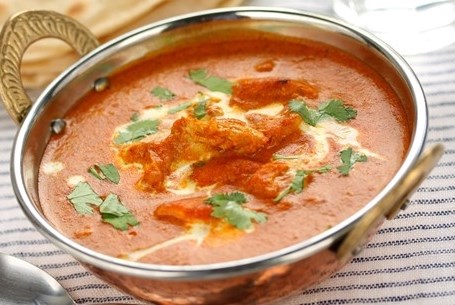 Published on September 14th, 2015
0
Meat the ban
Does the upcoming ban on sale of meat make you crave meat more? Try out these wonderful non-vegetarian recipes today.
by Anurita Gupta | @myylittlekitchn on Twitter, @myylittlekitchen on Instagram
Anda, machhi, chicken! Naam bhi matt lo, ban hai!
Recently we have been 'told' what we should not be eating. The beef ban in Maharashtra was a 'dream come true' according to a senior minister. And now, all those who were supporting that ban are also in for a shock as the Government has again decided a four-day meat sale ban during the Jain paryushan. The ban was then reduced to two days – September 10 and 17 – after public and political furore.
While it is wise to be sensitive to all communities and cultures in our country, this ban is clearly pushing things too far. Politicians are now dictating what should be on our plates in the pious country of India.
Many ban-believers forget that Indian cuisine is the most popular in the world because of its 'butter Chicken' and 'balti curry' both of which are meat dishes. Popular or not, as free citizens we should not have to fight for our food choices! That is why I bring to you a unique way of 'meating' this ban by giving you some non-vegetarian recipes that you can make and enjoy albeit even more ravenously to make the point J
Butter Chicken
As I said, the pride of Punjab sadda butter chicken is one of the best and the most sinful creations that the world and its cousin loves.
Can you believe that butter chicken was invented by accident at Moti Mahal Restaurant in Daryaganj, New Delhi? I bring to you the same recipe:
Ingredients: 1 kilo chicken marinated in 1/2 tsp red chilli powder, 1 tsp ginger garlic paste, 1/2 kilo dahi (curd) and salt to taste. While the chicken marinates put together the following for the gravy.
175 gm regular or preferably white butter, 1/2 kg tomato puree, 100 gm fresh cream, 4 to 5 green chillies sliced down the middle, 1/2 tsp each of sugar, jeera, red chilli powder, kasuri methi and salt to taste.
Make sure that the chicken is marinated and refrigerated for at least 6 hours or overnight before you put it in the oven. A clay oven is ideal but I use a regular oven (preheated) at 180 degrees and full power to roast the chicken for 15 minutes until it's just a little underdone.
Now add half the butter in a kadhai and pour in the tomato puree. Saute for 3-5 minutes and add all the masalas. Now add the roasted chicken, white butter, the fresh cream, chillies and kasuri methi. Now simmer the gravy until the chicken is completely cooked. Serve hot with naan. Life set!
Sali per eedu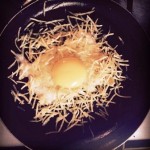 Mumbai bawajis are known for breaking an egg in everything. But this eedu (egg) recipe is arguably the best in the Parsi bhona treasure trove. It's simple yet a bit tricky. This recipe is essentially fried egg on top of fried potato chips/shavings. It's tricky because while the egg cooks through, the sali must not burn or steam up to being soft instead of crunchy J
All you need for this is eggs and potato sali, the thinner the better. Now, heat 1 tsp of ghee/unsalted butter and add Sali –potato chips – in the pan so that they form a circle on top of which you break an egg. That would be just the same way as you would do when you make fried eggs.
Sprinkle 2-3 drops of water on the egg (not the sali) and cover the pan. In about 30 sec, the egg would get some colour and it's ready to eat. Season it well and ensure that the potato shavings do not become soggy before you serve.
Tandoori fish
This fish recipe is by far my most favourite. It is also a hot favourite of fitness addicts, too. Low in calories, it packs in a punch of flavour. All you need is a whole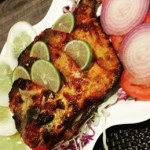 big 1/2 kilo white fish, preferably a pomfret.
For the marinade: take 6-7 cloves of garlic, 2 tbsp coriander leaves, 2 inches ginger, 2 tbsp lime juice, 1 tbsp Kashmiri red chili powder, 1/2 tsp jeera powder, 1/2 tbsp garam masala, 1 ½ tsp salt, 50 ml refined vegetable oil, 1 tbsp 'roasted' gram flour, 100 gm thick dahi.
Take all the ingredients (other than oil and curd) and blitz in a mixer to make a fine paste. Add to the oil and dahi and make a thick paste. Now marinate the fish by giving it 3 slits in the middle. Make sure you rub the marinade in the fish as well for even coating. Keep the marinated fish aside for 1 hour.
Now pre heat the oven at 200 Degree C. Put the fish on the top rack for 7 to 8 minutes, turning it once after 3 minutes. If you don't want to use the oven, you can simply put it on the tawa and oil grill it. Baste it well with the marinade during cooking. Serve will lemon segments stuffed between slits and some garden salad.
I hope you will explore at least one of these recipes during these ban day. It would not just add vivid aromas to your home kitchen, but will also reiterate your freedom to 'meat the ban' the way you like it J
Anurita Gupta is a media professional who is passionate about two things – food and radio. Her love for all things food makes her a foodie with a cause.
(Pictures courtesy Anurita Gupta)