Cinema@100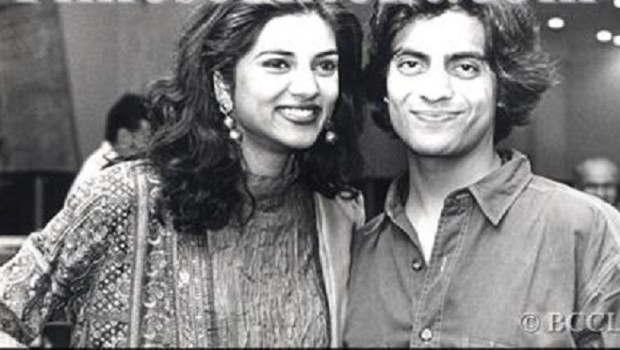 Published on June 14th, 2013
0
Being Miss Universe's boyfriend
Rajat Tara became famous when his girlfriend, Sushmita Sen, became Miss Universe in 1994. Then their relationship ended shortly after.
by Humra Quraishi
They went steady for a year before the universe opened its arms to her. Sushmita Sen was all of 18 and even then, unapologetic about her personal life. She had been seeing Rajat Tara, the son of a high-profile public relations man in a Government embassy in Delhi, and she had never hidden her relationship status even on winning the Miss Universe crown.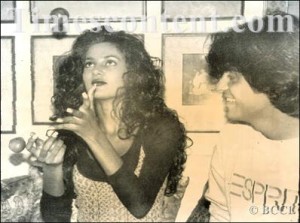 Naturally, as the country sat up and took notice of India's first Miss Universe in 1994, the spotlight was also turned on Rajat and the relationship. I had the chance to chat with him after Sushmita's famous win and when she was on a world tour – he had been unable to accompany her "because of stupid MBA examinations" – and he had been friendly and honest, though he declined a face-to-face interview, preferring to speak over the phone.
They didn't break up for a while after Sushmita's big win. When she returned to India after being crowned, Rajat was there with her on all her outings. The breakup happened after Sushmita's one year as Miss Universe was up. And after that, she seemingly never looked back as she entered the world of films.
Rajat sounded like a simple 24-year-old, cautious and to the point in his answers. Once in a while he became quite frank, but any slip-up was to be expected: here was a young man suddenly famous for no fault of his own, and answering personal questions is never easy.
Excerpts from the interview:
How long have you been dating Sushmita?
For about a year now.
Where did you first meet her?
At the Air Force Golden Jubilee celebrations. There was this fashion show where both of us took part.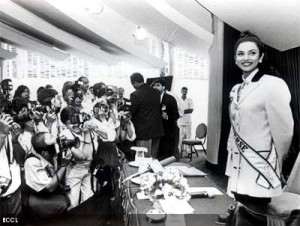 After her becoming Miss India and now, Miss Universe, has there been any difference in your relationship with her?
No, none at all. Why should there be a difference?
You haven't felt even a bit insecure? She is travelling the world, meeting new people…
Not at all. I am not really bothered. We are very good friends. She has been calling me up daily. She calls, or if she doesn't, I call her.
How long do your chats last?
For about five minutes or so.
Do you plan to marry her?
Marriage is a long way off, for both of us. We still have a lot to do in life. So we have no marriage plans for at least three or four more years.
Did she ask you to come along with her to Manila, for the Miss Universe contest?
Of course she did. But I had to take these stupid MBA examinations…
Do you feel that her parents would have been okay with your going with her?
Yes, her mother is very friendly. Her father, though, is a bit reserved.
It is being said that to any questions put to him about you, her father replies with "I don't know"…
Yes, I told you he is a reserved sort. Fathers are like that. I suppose this is a normal human attitude. But her mother is very open and friendly.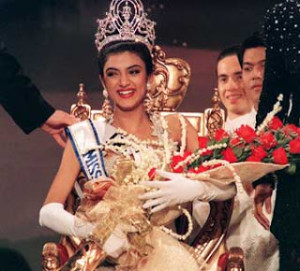 Your examinations end on May 31. Would you join her after that?
No, because she would be busy travelling. She is the property of MUI (Miss Universe International) and she has to go to different parts of the world for charity shows, fund raising programmes. How can I afford to go along?
What attracted you to Sushmita when you first her?
She was great company.
What about her looks?
Yes, looks are important, but they are not everything. I really enjoy her company. In fact, what upsets me now is that I won't be seeing her for quite some time. She will be back her for just a month, then she'll be out for nearly 10 months.
Rajat I must again ask if you aren't the tiniest bit insecure. Your special friend is Miss Universe, and you are here with your books…
No, and I have never felt insecure.
Even in the past one year when she has been modelling? Men must pass comments on her?
Yes, men pass comments, but then they pass comments about everybody. The best thing is to ignore all this.
Were you confident that she would become Miss Universe?
Yes, I was. And she was so confident herself.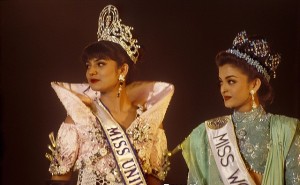 Do you think that her being Miss Universe could cause a strain on your relationship?
There can be no fun (in the relationship) without problems.
But too many problems can cause serious cracks in even the best of relationships?
Sure, but relationships can crack even without problems.
Is Sushmita the kind of person who does things her own way?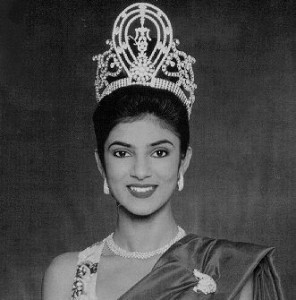 Yes, she has her own mind. She is today's woman.
Has she thought of a film career?
I'm not sure. But I don't see why not.
Are you the only male friend in her life?     
Yes, I believe so.
With so much happening, with Sushmita being crowned Miss Universe and so much attention on you, how has this affected your studies?
To the extent that I'm finding it difficult to concentrate. And even this interview has disturbed my studies!
(Pictures courtesy www.timescontent.com, www.oocities.org, www.flickr.com)