Cinema@100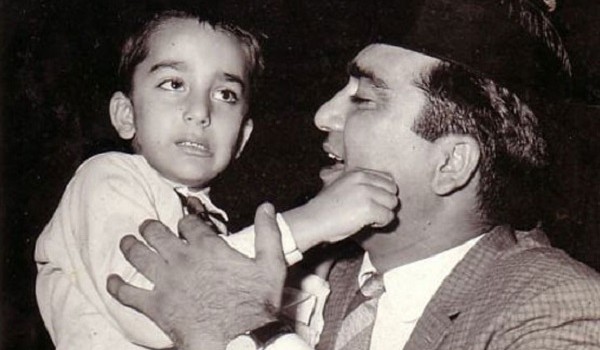 Published on October 4th, 2013
0
'My son will never be the same again…'
An old interview with Sunil Dutt sheds light on his agony over his son's arrest and the 'desh drohi' tag.
by Humra Quraishi
Sanjay Dutt is home on furlough from his two-year stint in jail in the 1993 Bombay blasts case. As I read the news, I reflected on an interview I had done with his father, the late actor and MP Sunil Dutt, who had spoken in heartbroken detail about his son's arrest and how his entire family was branded as 'anti-national'.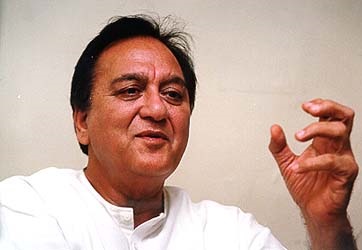 It wasn't easy getting him for an interview. I caught up with him in Delhi after he had joined the Congress party. I took an appointment and reached his official bungalow at Safdarjung Lane; the interview time was set after several weeks of calling his office. He would be busy on the weekdays and travel to Bombay on the weekends.
I sat in a bare drawing room whose only adornment was a series of framed photographs on the wall, 33 of them, to be exact. There were pictures of Sunil Dutt with Nargis, with his children and grandchildren, with the three generations of the Gandhis, with Mother Teresa, with President Ronald Reagan, with Jimmy Carter, with jawans at the border, and of Nargis receiving awards at various functions.
Dutt sahib turned up after an hour, and so did Raj Babbar, who tried to muscle in on the interview by quipping about this and that periodically. Finally, after several hints had been dropped, he took his leave and I could speak to Sunil Dutt at length.
Excerpts from the interview:
Have you recovered from the trauma of your son Sanjay being imprisoned for 19 days under TADA?
It's been extremely shocking for us and I don't think we'll ever recover from it. At times I keep thinking that this is what we have got in return for all that we did for the country. You go punishing a person who is yet to be proved guilty and whose family did everything for the Motherland.
Why do you think that TADA charges were slapped on Sanjay, though your lawyers said it was an arms offence case?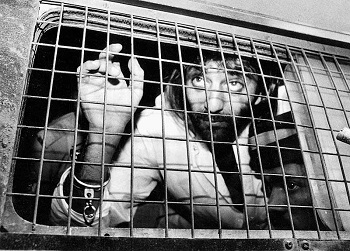 I shouldn't say anything about this, at this stage for the case is going on at the Bombay High Court. Also, anything I say can be played up by some vested interests.
God forbid, if rioting happens in Mumbai again, would you play an active role in relief efforts? (He had earlier been accused of minority appeasement)
Of course, I would.
And your son?
My son has changed after all this…I think he will never be the same ever again. During these riots, he'd really worked hard trying to provide every possible assistance to the riot victims, but now he says to me, "Papa, I will never do any social work." See how sad it is…
It has been proved that he had an unlicensed gun with him. Why did he keep it? Why did he try to dump it so mysteriously?
Again I will not comment on this as the matter is subjudice. I am of the belief that if he has committted a mistake, then the law should take its own course. But don't come up with filthy allegations against us. Don't call us 'Pakistani agents' or 'desh drohis'.
How did it feel to be labelled like this?
(eyes moistening) You can imagine how I felt. Wherever I would go, even the peons at the lawyers' chambers said to my face, "Desh drohi aa raha hai (The traitor is coming)." Once my daughters went out shopping and told me that the moment they stepped into a shop, there was a minute's silence and then the rest of the shoppers starting filing out of the shop.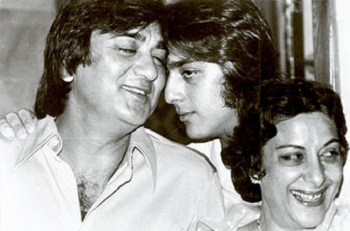 Even my dead wife was dragged into all this. I heard people say that Sanjay's mother was a Muslim. I replied that you could slam Sanjay and me as much as you wanted, but at least spare the dead. Or at least remember Nargis for the work she did for spastic people, for the blind. She never worked on religious grounds. At least look at what we've done for the country. During the two Wars, we went to the border areas to meet the jawans and in those days, in 1962, even when we were financially hard up, I donated one lakh rupees for the PM's relief fund. I am ready to do anything for the country.
Whom did you approach for help when your son was arrested?
Everybody possible.
Yet it took him 19 days to be released.
Yes.
Which friends stood by you in that crisis?
Foremost, the people of my country. And certain individuals from the Congress, the BJP and from the film industry. From the Congress, it was VC Shukla, Rajesh Pilot, Pranab Mukherjee, Arjun Singh and Jagdish Tytler. From the BJP, it was Shatrughan Sinha and Jaswant Singh. From the Janata Party it was Sharad  Yadav. From the film industry, it was Dilip Kumar, Rajendra Kumar, Pran saab.
What about the rest of the film industry?
The rest labelled Sanju guilty even before the courts could do so.
Suppose you were not an MP and not so well-connected. Do you think it would be tougher for you and Sanju? 
Not really, for we were not spared the trauma of Sanju's mother's religion being brought up. But there are still some strong secular forces in the country which alone can stop this decay. In Bombay these secular forces saved the city from what could have been a huge disaster.
Your destiny has been rather tough on you…
I suppose one has to fight on, to go on with life. Right from my childhood it has been a struggle, but what happened to my son I couldn't ever dream of. But these are tests of life.
What have you done to halt these allegations against you and your family?
I have told myself that time alone will show and tell people the truth. Where did I have the time to prove our innocence? During all these crises, I had been sleeping for barely two hours a night. I would get up by 4 am and be out by 5 am, to meet lawyers. When my home was being searched by the police for a full two days, I wasn't even at home. All the searches were conducted in my absence.
(Pictures courtesy bollywoodfamily.blogspot.com, www.hindustantimes.com, www.outlookindia.com)