Swaad 'Anu'saar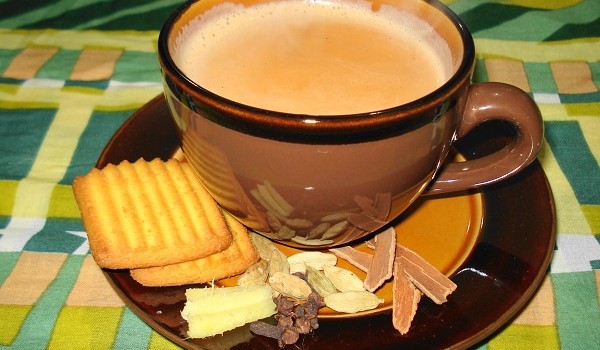 Published on December 4th, 2013
0
Nashta bole toh, sirf Mumbai mein
Aamchi Mumbai is defined by its nashta, the street food that serves as a meal between all our other meals.
by Anurita Gupta
Part 1 of 2
Mumbai ka chai nashta bole toh Mumbai's lifeline. A city that never stops loves its food on the go. So let's take on this gastronomical journey of exploring various kinds of snacks and beverages inspired by the various communities residing in the island city.
Vada Pav: Internationally known as the 'Bombay burger' and having gained worldwide culinary accolades, the humble vada pav sits crunchily on the No.1 position of all Mumbai snacks. I am sure there is no need to explain, but for the uninitiated, the vada pao is a brilliant carbohydrate overdose which has a mashed potato spicy patty deep fried in gramflour batter and then put in a freshly baked bun loaded with coriander (green) and tamarind (red) chutney.
The special zing is added by the dry garlic chutney which is famously available only in Mumbai. Vada pav is best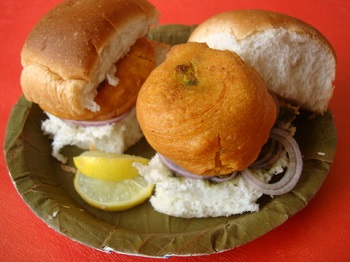 enjoyed with a nice masala chai from the nearby street vendor or if hygiene is your concern, then you can try the vada pav burger at Jumbo King outlets across the city. The other favourites in the pav category are samosa pav, bhajji pav and ussal pav that are devoured and relished especially by the college crowd.
Masala Chai: Chai mein bhi masala? Clearly India is the masala capital of the world. No wonder then, the busiest city of this country thrives on masala, be it Bollywood or chai. While chai has become a worldwide term for many tea aficionados, clearly masala chai stands apart. Found at almost every nook and cranny and every train station this thick milky tea fuels our city.
One would typically see a tea vendor vigorously stirring the aluminum vessel of chai, alternatingly adding an elaichi or kaali mirchi or dalchini to it. You can have half a cup known as 'cutting chai' or a full chai. While there is no specific time to enjoy it, the best evening companion for one and all in aamchi Mumbai is its heavenly chai.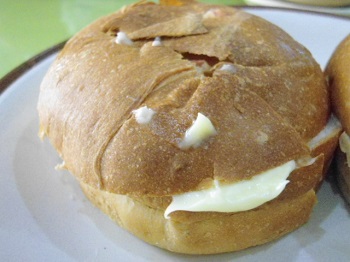 Brun Maska: No Parsi household can enjoy its leeli phudhina choi early in the morning or evening or in fact any time in the day without the kadak brun (bread) and soft maska (butter). It is not just the Parsis but most Mumbaikars who enjoy this Parsi specialty that comes in the 'light snacks' category. Available at most Irani bakeries and cafes, Brun pav is a famously fluffy soft round bread with a hard crust and looks a lot like the soft bun. Freshly baked brun tastes the best with a nice amount of butter slapped on it along with a small drizzle of sugar…yum!
Enjoy it at a famous Irani café ensconced in a corner of a busy Mumbai street. Bite into the crunchy brun while taking in the historical ambience of the café that typically has glass top tables with rosewood lacquered chairs, old time posters of beverages and even international pop stars, a grandfather clock, antique stain glass windows and white and yellow block flooring.
Bhelpuri: Mumbai ki bhel ko kabhi mat bhool. That should be the slogan for our city, 'cause if Delhi can make a teekha gol guppa, then Mumbai's robust chatpati bhel puri can give it a good run for its money. Bhel puri is a true chai time favourite because it gives just the right amount of tang, zing and healthy crunch that is easy on the calories and the pocket. A combination of thinly chopped kachhi kaeri (raw mango), murmura (rice crispies), roasted dal, poori (semolina crispy disc)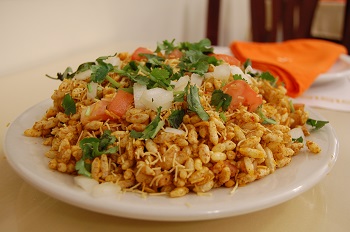 and of course, some nylon sev is then tossed in khatti meethi chutneys and served in a cone-shaped newspaper with a sprinkling of fresh coriander. The bhel puri is the pride and joy of every street vendor. It is most sought after at various chowpatties and snack centres.
My favourite is at Swati Snacks, Tardeo. You can also enjoy other 'sister' snacks like sev poori, sookhi bhel and dahi batata poori if you have more time and tummy space. Bhel can never be enjoyed with a spoon. Always ask for a crisp poori to enjoy this plateful of nashta.
This is not where our tryst with Mumbai ka chai nashta ends. Wait for Part 2 that will explore the Sindhi sel bread, khamman dhokla, sev gathiya, dosas and vegetarian sandwiches galore, complemented by the South Indian kaapi and Irani butter chai. Toh ho jaaye!
Anurita Gupta is a media professional who is passionate about two things – food and radio. Her love for all things food makes her a foodie with a cause.
(Pictures courtesy sailusfood.com, wikipedia.com)