Achieve
Published on July 14th, 2014
0
Mumbai Raj Bhavan wins first prize for energy conservation
The award was announced by the Maharashtra Energy Development Agency; Raj Bhavan won for its non conventional energy use efforts.
by The Editors | editor@themetrognome.in
Raj Bhavan, Mumbai, the office and residence of Maharashtra Governor K Sankaranarayanan has won the first prize for energy conservation at the 9th State Level Energy Conservation Awards announced by the Maharashtra Energy Development Agency.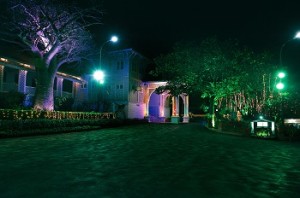 The award carrying a cash reward of Rs 1 lakh has been declared to Raj Bhavan in recognition of its efforts to promote the use of Non Conventional Energy and save conventional energy. This is second major recognition for the Raj Bhavan that was declared an ISO-certified organisation last year.
The Chhatrapati Shivaji Maharaj Hospital and Rajiv Gandhi Medical College, Kalwa, was declared as the winner of the second prize while the Telephone Exchange Building, Bhandara and TAX building, CTO Compound, Nagpur, were jointly selected for the joint third prize in the category 'Government Buildings'.
A Solar power plant with a capacity to generate 40 KW of power was commissioned in Raj Bhavan in March 2013 with financial assistance from the Union Ministry for New and Renewable Energy. Some of the important buildings in Raj Bhavan, street lights inside the Raj Bhavan complex, tube lights and fans in the Governor's Secretariat have been powered by solar energy. During the last two years, Raj Bhavan has replaced conventional lights with LED lights. Old power-consuming air conditioners have been replaced by power-efficient VRV units, while water heaters have been replaced by solar water heaters. Raj Bhavan had also implemented an awareness campaign to save power.
According to Vasant Salunke, Comptroller of the Governor's Households, the power consumption of Raj Bhavan was reduced by 1.35 lakh units which translates into a saving of Rs 14 lakh per annum.
Other energy-saving initiatives include reducing water pumping hours, using LED tube lights, street lights, garden lights and office lights, replacing power consuming ceiling fans by 5 star rated ceiling fans, using 5 star air conditioners in place of old ACs, using VRV AC plants in place of water cooled package AC plants, and replacing water heaters with solar water heaters.
(Pictures courtesy Raj Bhavan,Mumbai)