Achieve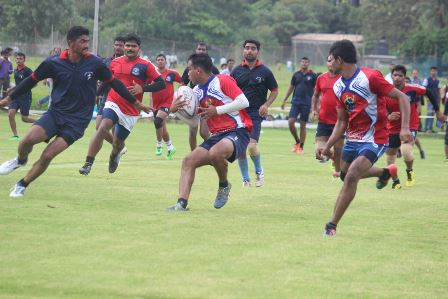 Published on September 15th, 2015
0
Mumbai police beat Pune cops
…in a game of rugby. Greater Mumbai Police and Maharashtra State Police bagged the top honours in Bombay Cup 2015.
by The Editors | editor@themetrognome.in
It was a keenly contested match between the police forces. In the end, Greater Mumbai Police and Maharashtra State Police defeated Pune Police and Mumbai Magicians by 27-7 and 23 -13  respectively, in the first round of the 'Bombay Cup 2015', WIRFU's premier 15-a-side Rugby Championship held at Bombay Gymkhana grounds.
A total of 6 teams across the state participated in the championship. The participant teams are Bombay Gymkhana, Maharashtra state Police (MSP), Pune Police, Pune District Rugby Team, Greater Mumbai Police (GMP) and Mumbai Magicians Rugby team.
The opening game between Greater Mumbai Police and Pune Police was keenly contested. Pune Police's Sagar Babare scored the first try and secured the conversions in the first 25 minutes and built pressure on Greater Mumbai Police in the first half of the game. At the end of the first half, GMP Captain Vitthal Pawar scored the try and led the concluding score to 7 – 5.
But, in the second half, GMP came back very aggressively. Beginning of the second half, Sangappa Shinge scored the second try for GMP. And Rajaram Mote, Sanket Dhumal and Vipul Mokal continued the momentum by scoring one Try each for GMP. Pradeep Londhe successfully booted the last conversion. And the final score was 27-7.
The second game between Maharashtra State Police and Mumbai Magicians was tightly contested. The Mumbai Magicians Rugby team started off strong. In the first 15 minutes, the Magicians' Ajinkya scored the first try and 10 minutes later Shankar Rathod scored the second try. At the end of the first half, Pappu Todkar scored the try for MSP and Sunil Chauhan booted the penalty conversion  for Magicians at the led the concluding score to 13-5.
In the second half of the game Mumbai Magicians couldn't hold the opponent's attack. Maharashtra Police came back and thrashed the Magicians defence. In the second half Sandeep Kamble scored in the 50th minute and two minutes later, Pankaj Khopde scored another try for MSP and Pappu Todakar successfully booted the conversion. In the last phase of the game, MSP Skipper Ranjit Jambhale sneaked out from opponent winger and scored the last try. In the second half, MSP did not let Mumbai Magicians score single try against them. The final score was 23-13.