Achieve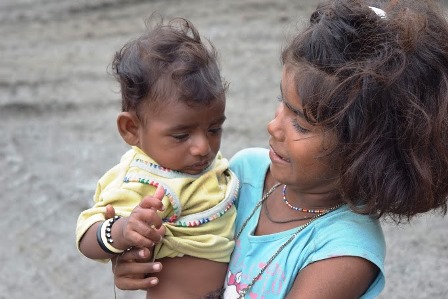 Published on October 16th, 2015
0
Underprivileged children put up photo exhibition in Mumbai
Click Rights, a photojournalism initiative, returns in its 2015 edition with photographs taken by street children of their younger siblings.
by Child Rights and You
The first five years play a significant role in a child's life. But for thousands of children, a healthy start to life continues to be a distant dream. Long before they turn five, their physical, emotional and cognitive growth is hampered by the lack of adequate nutrition and healthcare. Child Rights and You (CRY) aims to change this by launching its 'Get Healthy. Give Healthy' campaign that will give 2,81,045 children a healthy start to their lives.
One of the primary features of the campaign is CRY's annual photo journalism initiative called 'Click Rights'  that is in its 4th year.  Click Rights 2015 will highlight through the power of photography the health and nutrition challenges faced by children under the age of 5 years. A large number of the photographs have been contributed by children from our supported project areas in the States of Maharashtra, Gujarat and Chhattisgarh, with training from esteemed photographers and CRY volunteers. These children were given cameras to photograph the daily lives of their younger siblings. Many of the elder children had in fact never stepped into a school because they were entrusted to look after their younger siblings.
Their photographs will be showcased at exhibitions across the country, in malls, parks, colleges and as part of projections on prominent buildings.
In Mumbai, the first exhibition will be at Phoenix Mall, Kurla (West) from October 17 to 18.
"The real health of a country can be measured by how we look after our children. Hence it is alarming that in India today, 13 million children are un-immunised, making them susceptible to deadly diseases, and 40 per cent of these children are underweight. With Click Rights, we would like to highlight the health related issues confronting children in India. We hope it will build awareness, start conversations and motivate people to take action for children," says Kreeanne Rabaddi, Director, Western Region, Child Rights and You (CRY).
PHOTOVOICES
This is what 12-year-old Raj clicked.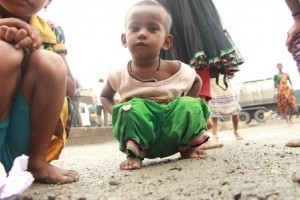 "This is my two-year-old brother Manas. He is quite naughty and plays with mud all day. We are three brothers and one sister. We live on the roadside and spend our whole day playing. We have no school in our area. We don't have any toilets as well. I want to see my brother happy. I want to build him a home one day."
This is what six-year-old Anjali clicked
"My little brother Ajay (name changed, in featured image above) stays with me all the time and plays with me. I take care of his needs. He is one year old. My parents are labourers, they leave the house early in the morning and come back only after dark. We live on the street, sometimes it is difficult to manage him, but most of the times I do it with ease. I love my brother very much and think of him as an angel. If he weren't there in my life, I don't know what would I do the whole day."
This is what 12-year-old Umesh has to say of his photo…
"These two girls are my best friends. They are more like my sisters. Many of the kids don't go to school, so we play all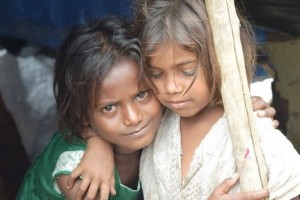 day on the road. Some people give us food to eat, on Sundays so many bhaiyas and didis come to visit us and we have fun sessions with them. I wait for Sundays, that's the only day I feel loved and cared for."