Enough said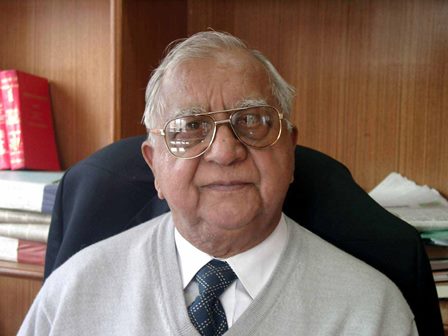 Published on November 15th, 2015
0
With Ved Bhasin's passing…
We are slowly losing the few voices of dissent in a changing world. Ved Bhasin's was one of those voices.
by Humra Quraishi
When I first heard the news of the passing away of the Jammu-based veteran journalist Ved Bhasin this week, my first reaction was: 'We have lost a brave man who spoke and wrote so fearlessly…' Ved will always be remembered for writing with conviction and passion.
He was a soft-spoken man with a core of steel. You could be fooled by the mild serenity on his face, but he could surprise you with his sharp views. Never one to mince his words or dilute details of horrifying tragedies in the Kashmir region, he continued to be fearless in his writing to his last days.
I met him five times in my life, and every time he impressed with his bold insights. I once asked him, "Don't you fear the backlash that your words can cause? The State machinery does not let anyone get away easily." He just shook his head and said, "Right from my teenaged days, I never gave up a cause that affected people. I have already detailed the struggles and threats I have faced till date. I have my wife to thank for standing by me all these years – not once did she hold me back from exposing the truths about political corruption."
Ved was one of the on-ground journalists who was an integral part of the changing landscape of Kashmir. As the region changed and became more vulnerable to attacks and militancy, Ved's writings became fiercer, more incisive. He was always rooted in the Kashmir soil and very close to its people. For a person who had seen it all in the region, I often urged him to write his autobiography. Such a book, I explained, would trace the development of Kashmir and how the State machinery had always overlooked the upliftment of its masses. He would only smile and say, "Maybe someday I will."
I wish he had. His autobiography would certainly be an extraordinary work, backed by extraordinary reportage rooted in a place of terrible beauty.
(Picture courtesy www.risingkashmir.com)