Enough said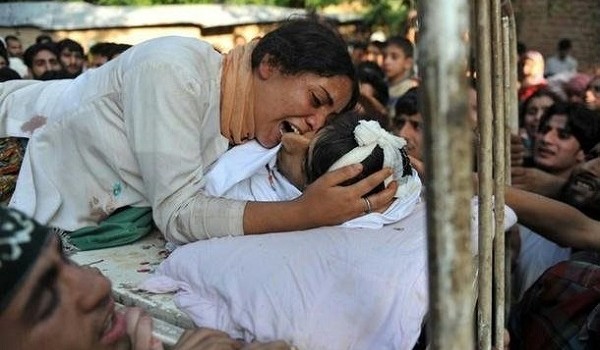 Published on October 24th, 2015
0
The scary times I live in
Must we now think twice before eating food that 'looks non-vegetarian' or listening to music by our favourite Pakistani singers?
by Humra Quraishi
I have been on a visit to the Kashmir valley to study the situation at Ground Zero, where floods ravaged the area one year ago. The situation is as grim and heartbreaking as ever, with relief money still not reaching a majority of the intended beneficiaries.
Kashmir is more than furious at recent goings-on: with incidents of Right Wing goons attacking two Kashmiri truckers, Zahid Rasool and Showkat Ahmad and ink and paint thrown on MLA Engineer Rashid and the relatives of the two truckers who held a press meet in Delhi. Anger then gave way to rebellion after Zahid succumbed to this injuries later.
If the rulers of the day think they can get away with throttling voices of dissent, they must think again. Kashmir is on the brink of unprecedented chaos and there will surely come a time when one more incident will be the proverbial last straw.
But through the gloom shines the work of several NGOs and community outreach projects that have sprung up in the valley, trying to help the people in need. One of them deserves special mention: Nighat Shafi Pandit's H.E.L.P. Foundation. It is doing a tremendous job holding programmes and workshops for women and children here. Also, the community itself is reaching out to each other. At least the floods have broken down the rich-poor divide.
And I returned home to find that the series of blatant, illogical attacks against Muslims – whether Indians or Pakistanis – continues. If it's not the Shiv Sena trying to upstage a little-known Pakistani who has just released a book, then it is the Right Wing hooliganism at play against what their own countrymen say, eat or believe in. I, an Indian Muslim, am now terrified of being branded a Pakistani if I listen to the music of Ghulam Ali and express my outrage against the way we treated him in Mumbai. I am afraid to eat my soy nuggets lest some nut think I am eating beef and decides to attack me. I love Urdu shayari, but if I am caught humming it somewhere I might be attacked for promoting my mother tongue.
I have never before even thought of these things, but I think of them every day now. This is the state the current Government has reduced me to. If anyone wishes to witness how the 1947 Partition may have come about, I think current circumstances are a good reminder.
Humra Quraishi is a senior political journalist based in Gurgaon. She is the author of several books, including Kashmir: The Untold Story and Dagars and Dhrupad, among others.
(Image is used for representational purpose only)