Big story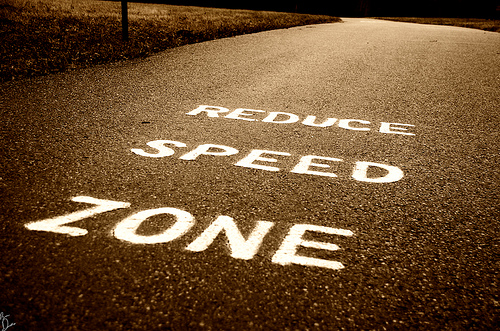 Published on October 29th, 2012
0
No speed limits this year
Maharashtra sees over 70,000 road accidents every year. However, government may not enforce speed limits on vehicles this year.
by The Editors | editor@themetrognome.in
Given that speeding is a major cause for several road accidents in the city and the state, it is becoming increasingly necessary to have a speed-control mechanism installed on vehicles that speed. The state government, too, wishes to introduce speed governors in heavy vehicles to check rising incidents of road accidents. However, a government-appointed panel set up to recommend speed limits for various vehicles needs another two months to finalise its recommendations.
In the light of this development, it is obvious that speed limits will probably not be imposed this year.
A speed governor is a device that is attached to the vehicle's gearbox. Sensors capture the speed of the vehicle, and the governor automatically slows down the vehicle if it overshoots its pre-set speed limit. The government wants buses, trucks and other heavy vehicles to have speed governors  installed – the original plan was to have this decision implemented this year, however, with the panel requiring more time, it is likely that the move will not be final before next year.
When the decision to impose speed restrictions on heavy vehicles was first announced, transporters and bus owners had strongly objected to the idea. Accordingly, the government set up a panel early this year to study the objections raised, and which was expected to submit its report by September 1 this year. However, the panel did not meet this deadline and has now asked for two more months.
If all had gone to plan, the transport department could have introduced speed limits and speed governors from September 2012 onwards.
Accidental state
As per a Government Resolution (GR) from the state's Home Department issued last week, Maharashtra's state and national highway see a high 70,000 vehicular accidents every year. "Arising from these accidents, at least 12,000 people lose their lives, while 40,000-45,000 people are injured every year. The rising numbers of accidents and the resultant loss to life has made it necessary to bring about preventive measures at the earliest," the GR says.
Additionally, in order to monitor the successful implementation of all the state government decisions taken to reduce the numbers of accidents, a committee comprising Minister of State for Home, Satej Patil, Minister of State for Transport, Gulabrao Deokar, Minister of State for Public Works Department, Ranjit Kamble, and Minister of State for Health, Fauzia Khan, has been set up.
(Picture courtesy flickrhivemind.net)