Big story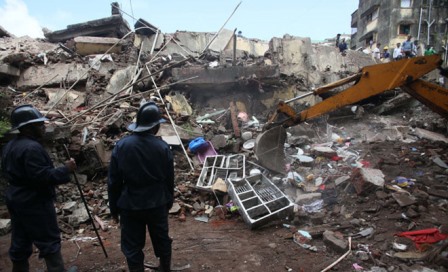 Published on August 5th, 2015
0
Two building collapses in two weeks for Thane
Old buildings continue to fall in Mumbai and Thane. What are the Government and municipal authorities doing to address the problem?
by The Editors | editor@themetrognome.in
After a building collapse in Thakurli last week claimed 9 lives, another building collapse in Naupada, Thane has now torn five families asunder. 12 people have died in the second collapse incident.
At least 5 people were rescued in a joint operation by National Disaster Response Force (NDRF) and the Mumbai Fire Brigade personnel. The incident occurred at about 2 am on Tuesday, when the Krishna Niwas building collapsed in under 10 seconds. Ground floor repair work in one of the commercial establishments in the building is being blamed for the collapse. On Monday, residents had been alarmed by wide cracks in the building staircase.
The NDRF personnel had previously been pushed into service in last week's building collapse at Thakurli, also in Thane. 9 people were killed in that incident. The Naupada building was not on the Thane Municipal Corporation's list of dilapidated buildings.
Apart from intermittent rains queering the pitch for buildings in Mumbai, Thane and Kalyan-Dombivali, the problem of cessed buildings and the lack of repair continues to plague the city. There are over thousands of old buildings in the city, which fall under the ambit of the Rent Control Act. Owing to the Act, owners of these buildings are not allowed to raise rents for tenants (who may pay as little as Rs 35 to Rs 100 per month as rent). Hence, the owners are unable to gather the funds to carry out repairs and restoration works for the buildings. Naturally, the buildings continue to stand in a state of increasing disrepair – till they ultimately collapse and claim lives.
Residents of old buildings in a dilapidated state are warned to vacate the premises after municipal authorities conduct checks for stability. However, most cannot afford to pay high rents or purchase property in Mumbai and Thane. The prices of real estate in Mumbai are the highest in Asia, and most people are unable to afford a home purchase.
Building owners in Mumbai and Thane are increasingly opting to redevelop their properties. However, the process of redevelopment is a long-winded one, requiring consents from tenants and owners, a mutually agreeable discussion on area allotment, permissions to be procured from the municipal authorities, and so on. It is being said that the Naupada building was locked in a dispute between a builder wanting to redevelop the property and the five families that had stayed behind in the building. Sadly, the survivors of the building are now left to grapple with the loss of their homes and loved ones.
(Picture courtesy www.indianexpress.com)