Tech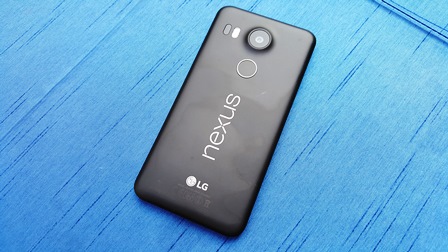 Published on November 28th, 2015
0
Review: LG Nexus 5
We take a look at the new Nexus smartphone and like a few features. But some others require more work.
by Manik Kakra | @Manik_K on Twitter
LG's Nexus 5 remains the most popular Nexus device till date. The phone got a lot of things right, and was not only liked by power users who are into Nexus's products but also general users. Two years since the Nexus 5's launch, the LG Nexus 5X is out. But does it fare well?
The looks. The Nexus 5X follows a familiar soft-touch look and feel of the Nexus 5. The soft-touch polycarbonate material and rounded edges and light weight make the phone comfortable to carry, but as soon as you press those Volume buttons and power/Lock key on the right, you realise this phone doesn't ooze a premium feel. The phone has a flat back, plus, front-facing speaker (which also houses the primary mic) and notification LED below the screen.
The ear-speaker grille is surrounded by the 5 MP front-facing camera, sensors, which are visible if you look closely. On the back is the protruding 12.3 MP camera along with dual LED flash. The phone's design reminds a lot about the Nexus 5, but it doesn't feel better than other phones priced around Rs. 30,000, especially with Xiaomi, Motorola and ASUS designing phones well below the Nexus 5X's price point.
Screen. The device boasts a 5.2-inch IPS LCD that's covered by Gorilla Glass 3. The screen does a great job in daily use for videos, images, and text. It's not the brightest LCD on a phone today, but it definitely has great colour reproduction, sharpness, and richer Black levels than earlier. It doesn't have the highest resolution possible but it handles colours and sharpness for videos and images well.
Camera. Nexus phones aren't really known for imaging. The 12.3 MP (f/2.0 an 1.55 microns) camera is apparently better at low-light shooting. Here are a few sample images.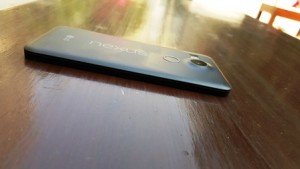 The camera seems capable of giving detailed and sharp images. In low-light and good light conditions, the camera doesn't disappoint. You can open the camera app from wherever you are even if the screen is locked, by double-tapping the Power/ lock button. The new camera app is much improved too. Other than some unusual focus issue in broad daylight, the camera app works well.
Battery. The Nexus 5X is equipped with a 2,700 mAh battery unit. The phone required to be charged well within 20 hours of heavy to moderate use. But what's better is Android 6.0's battery optimisation feature (Doze). Thanks to this new feature, expect your phone to give much improved standby time, when the phone is idle with the screen switched off.
Audio. The loudspeaker on the front does a pretty good job and usually doesn't distort. It is quite loud and clear, while not as nice as the One M9+ and Note5 (better placed, though), it isn't really bad either. In-ear headsets are just about okay, and I would suggest getting a decent pair for your new Nexus phone. Basics like call quality and network reception are top notch. Bluetooth and WiFi connectivity caused no problem.
Software and performance. Under the hood, there's a Snapdragon 808 SoC (hexa-core -1.8 GHz dual-core + 1.4 GHz quad-core CPU and Adreno 418 GPU) along with 2 GB of RAM. Belonging to the Nexus group, the phone is expected to be smooth in various tasks, have stutter-free scrolling, and so on. Does it deliver on those points? Mostly yes. The phone does well when scrolling in apps, paying HD videos in the YouTube app, and switching between apps from the Recent Apps key (on-screen keys here) has been improved in Android Marshmallow. The phone hardly ever lagged, and almost always provided stutter-free experience in games (FF Legacy).
Where it slightly lagged was when switching to Chrome with a few tabs open or using an image-heavy app like Instagram or Imgur and having to load images again when scrolling.
I found WiFi performance and animations to be noticeably improved. It feels a bit more polished and less buggy to use. On the other hand, there're also a few added features with this new version. One of those is Google Now on Tap. The swipe-up gesture to bring Google Now has been removed and you now have Google Now on Tap, which you can trigger by long-pressing the Home button inside any app.
Wrapping up, the Nexus 5X scores well on these fronts – Screen, general performance, camera, but lacks a little for battery life and aesthetics. While we have seen quite a few manufacturers bringing great value-for-money smartphones in budget, in my opinion, this year's Nexus launches (the Nexus 5X and 6P) show the Nexus program is here to stay and its advantages – first in line for OS updates, no third-party bloatware, typical smooth performance – are well in place for now. If you're looking to buy one, you should go for the 32 GB model (24 GB available space) that is priced around Rs. 31,000.
(Pictures courtesy Manik Kakra)