Tech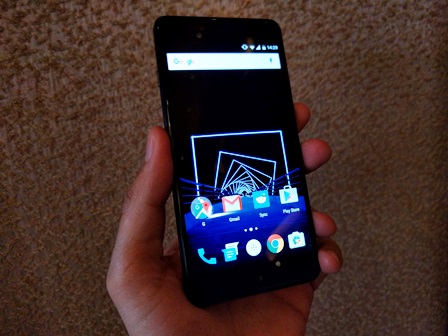 Published on December 10th, 2015
0
Review: OnePlus X
We test the newest OnePlus phone and come away only slightly impressed. It's a good phone for its price, though.
by Manik Kakra | @Manik_K on Twitter
We have seen quite a lot of smartphones this year that are not priced upwards of Rs 20,000 and still perform pretty well on most tasks. With the likes of Motorola, ASUS, OnePlus, Xiaomi, and a few more heating the battle up, it isn't a bad situation for buyers. While the mid-to-high range devices are improving, what they still usually lack is premium build quality, a great camera and every feature at a reasonable price. Does the OnePlus X, priced at Rs 16,999, change that?
The looks. The OnePlus X (E1003) follows a considerably different material and design language than anything OnePlus has sold recently. The device has curved glasses on the front and the back, and is a flat slab on both sides with chamfered edges. Weighing under 140 grams and not measuring too tall, the device is not comfortable to grip as the whole body is quite slippery (you get a plastic case in the box, but you might want to get a better one that looks and feels less cheap).
With the 5-inchAMOLED on front, sensors and front-facing camera above it, and three capacitive touch keys (none of which light up), the bottom has the microUSB port surrounded by the loudspeaker and primary mic. The left panel has a three-way alert switcher (same as the OnePlus 2); the right side has SIM cards tray (nano + nano or microSD card) tactile volume and Power/ Lock keys (near the middle); and the top has secondary mic and 3.5mm headset jack. The back, sports the OnePlus logo apart from the 13 MP camera and LED flash on the top left corner.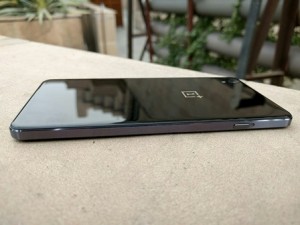 Screen. OnePlus X is equipped with a 5-inch full HD AMOLED, which most people would find comfortable for most of their tasks. The screen is sharp, usable under sunlight and has deep rich black levels expected of an AMOLED today. The phone has the black theme selected by default for better battery and the screen does justice to it. Full HD videos and images look fine on it, but you may have to wipe the glass every now and then.
Battery. The device features a 2,525 MAh battery unit. The phone almost never lasted a full day with average to high use. With lighter usage, you can expect it to last about a day. Using a single SIM card, brightness level at 30%, don't expect a lot from this device in terms of battery life. The phone takes a couple of hours to get fully charged.
Camera. The phone boasts a 13 MP (f/2.0) camera on the back, and here are a few sample images.
As you can see, the camera isn't that great; images sport quite some noise and while the camera app itself is smooth and quick to capture, the results are not good. You can get some good shots with the right lighting and a still subject but the camera disappoints otherwise.
Software and performance. The OnePlus X runs OxygenOS 2.1.3-x over Android 5.1.1. It sports Qualcomm's Snapdragon 801 chipset, which was used by a lot Android OEMs for their flagship devices nearly two years back. There's 3 GB of RAM and about 10.5 GB of storage available to the user. OnePlus's OxygenOS is close to the look and feel of stock Android, with a few tweaks and features. There aren't too many additions done since we last used it on the OnePlus 2. The company has stated that the phone will be updated to Android 6.0 in2016's first quarter. Performance-wise, the OnePlus X is a satisfactory performer. Throughout my usage, I didn't see too many app crashes or stuttering between Chrome's tabs. While I wouldn't say animations and general scrolling are as fluid as, say the Nexus 5X's, it isn't bad and definitely as good as phones in this price segment today.
It is quite clear who is this OnePlus X meant for. You can choose it if you want something that looks and feels really nice, has smooth performance and good screen. The OnePlus X sort of makes the mid-range phone segment in the Indian market better and more competitive.
(Pictures courtesy Manik Kakra)