Read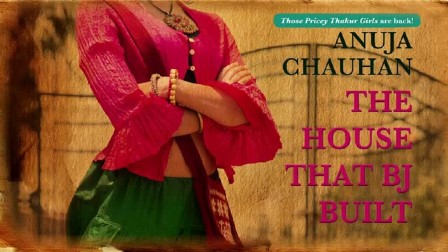 Published on July 23rd, 2015
0
Review: The House that BJ Built
Anuja Chauhan's sequel to 'Those Pricey Thakur Girls' is a humorous look at issues like making a will and sharing property.
by Ritika Bhandari Parekh
Rating: 4 out of 5
The 16th Hailey Road brats are back! A sequel to Those Pricey Thakur Girls, Anuja Chauhan's latest offering from the Delhi melee is The House that BJ Built. With this book, sappy rom-coms will finally make sense in the real world.
Once again, we enter the world of Justice Thakur and his chronologically-named daughters. Hot-shot director and grandson Samar Vir Singh and curvy, independent, vivacious Bonita Singh Rajawat are the grown-up protagonists of this novel. Bonita and Samar's attraction, interaction and the illogical chemistry of the heart set the tone of the story.
A conniving brother, a muddled past and some letters abound as Chauhan anchors the different-as-chalk-and-cheese sisters to their home ground. The siblings are all set to take their respective shares from the glorious house that BJ built. But is it all possible without a clash of thoughts and past bitterness?
Chauhan vividly describes the characters and has us asking for more. She manages a sharp level of detailing, from Bonita aka Bonu Singh's business ways to Anjini's socialite editor nakhras or Chachiji's sweet as chashni nature turning sour to the item-song ways of the film industry. These are all amusingly believable. The story scores in bringing an oft-happening issue of batwara, will-making and will-changing in the Indian family society to the fore. The author throws in her awesome writing skills and wit to make the entire drama a beautiful page-turner.
As Indian authors go, Chauhan's belief in her readers and her deft-ability to not explain her characters and their desi ways (especially for foreign readers) makes her a favourite. Unapologetic, sexy (with all the beauty and brains of the Thakur girls and their offspring) and words that will make you smile and laugh, The House that BJ Built is definitely a must-read.