Read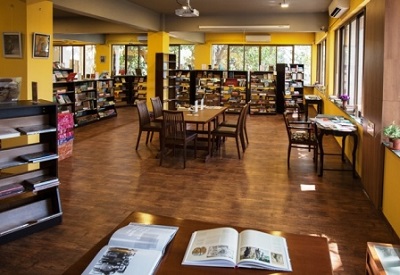 Published on August 28th, 2015
0
A reader's paradise in Lower Parel
Trilogy, the library is a much-needed book corner in a bustling city that can find itself through the reading habit.
By Ritika Bhandari Parekh
You are greeted with an abundance of trees, sunlight, books and more books here. From Feynman's musings to Alexander McCall Smith's suspense, from everything you wish to know on Ogilvy to a delightful hour with Calvin and Hobbes, Trilogy has something for everyone, age notwithstanding.
When literary editor Ahalya Naidu and wildlife photographer Meethil Momaya met each other, they shared a dream for a quaint bookstore atop a mountain. They even had a date browsing books at Churchgate's Sunderbai Hall annual books sale. Undoubtedly, the book lovers united and years later, they are the envy of every reader with their venture, Trilogy. Located in Raghuvanshi Mills at Lower Parel, the space houses a library and a beautiful bookstore.
With books as quintessential birthday gifts, avid reading runs in the family for the duo. The library feels like Willy Wonka's Chocolate Factory albeit with books. With options galore, it will make a book addict giddy with excitement.
The stepping stone
"It all started some 5 years ago, when we both were looking forward to entering the publishing industry. In the process we found that our core strength lies in talking to readers, finding good books and recommending them," Ahalya (32) says. "In 2013, we started The Eternal Library (TEL), our library consultancy. It was a great opportunity to use our passion to help corporations and individuals set up their own reading spaces. While we were helping others set their libraries, we always felt a personal need to have a better collection of books."
Meethil (35) adds, "We realised that quite a few good books did not make it to city bookstores. Also we observed that in-house libraries of MNCs do not get updated regularly. That's how memberships start to dwindle and reader engagement dips. That's why libraries don't work."
But through TEL, they helped revamp existing libraries to maintain their collection. They would carry out surveys to know audience preferences. "The underlying aim was always to match a book to a reader and a reader to a book. One thing led to another and in Christmas 2014, we had a space called Trilogy, where people could find books they would love," Ahalya says.
A setup unlike other libraries
Most city libraries have a cafe setup to cover the costs, but the owners of Trilogy believe that their forte is books and not food. "Our main motto for having a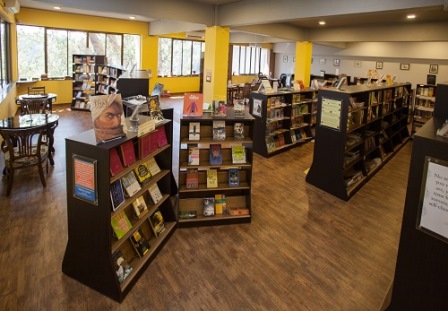 reading space was to promote reading. Today when members come to just sit and read, we know the concept is working well. We have seen a shift in the body clock of our readers. They leave behind their hectic work and tune into reading at Trilogy," they say.
"Also our interiors allow sunlight to enter and fill the room. Our vision of no jam-packed shelves, keeping books in a melange of vertical and horizontal stacks, not housing poorly written books or listing special mentions on post-its make the library interesting."
The 'cool' job of a librarian
Their careers as editor and photographer have taken a back seat since the book business keeps them busy. "Managing the library and bookstore is difficult. Even when we are not at the library, we are in a way eating, sleeping and waking up to it. We do not like to take the day off, as being here is much better than being at home and working on the same thing," Meethil says. "We are continuously talking books or the library and things related to Trilogy."
On being surrounded by books for a living Ahalya says, "It is a powerful and transformative feeling. When you connect to a reader, it takes a different dimension altogether. When people come back and appreciate the recommendation, it validates all the difficulties we endure."
She says, "I feel extremely guilty, if a parent and a child walk in and I'm not part of the conversation. Recommending books which they will like makes everybody happy. We wish we had more hours in the day to read those books. Because if we are supposed to recommend, we need to read, too," Meethil complains.
The Member Diaries
"When we curate, we try to find the right reader for a book and vice versa. It is always heartening to see kids come and reissue their books as they have found a favourite book. I remember how this girl had written a note and kept it inside a book, as she loved the recommendation. Another girl thought it was a tradition to write a note after reading, and did the same. Also young mothers trying to get back to the habit of reading is appreciable. We also have a member who comes all the way from Kandivali with her kids. Every night she reads one book to the child and posts a Facebook status. Seeing that makes us happy," Ahalya says.
With plans to expand in other cities like Pune – Trilogy serves as an inspiration to follow one's passion and make it soar higher. As for the readers in Mumbai, they need to enjoy this wonderful treat offered by two passionate book lovers.