Trends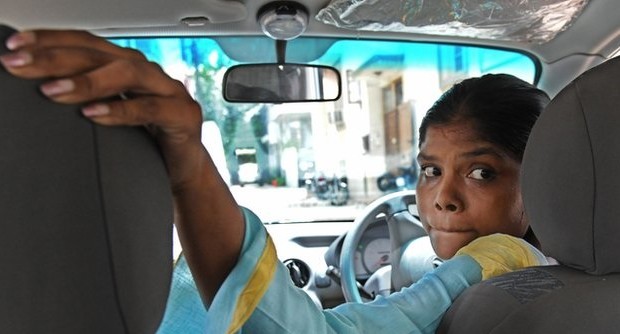 Published on April 12th, 2014
0
More Indian women in the driver's seat
A survey finds that with financial independence, more women are driving cars in India and stating their specific personal preferences.
by Nielsen India
The following is excerpted from a survey conducted recently by Nielsen.com (India), which tracked the numbers of women on Indian roads, their choices in the cars they drive and whether they are decision-makers in the car-buying process.
How Women Decision-Makers Are Influencing Car Purchases
– Women have become more involved in decision-making when buying a car.
– For women, safety features more important than price.
– Automatic transmission, abs and run-flat tyres key factors for women car buyers.
The gender gap on Indian roads is rapidly decreasing. As with other roles, women in India are taking the wheel in larger numbers—a shift that can be attributed to several factors, including rising education levels and increased career opportunities.
In Patna, for example, 3,228 driver licences were issued to women in 2010- 2011, up 37 percent from the previous year. Moreover, between 2008 and 2011, the percentage of cars registered by women in the city has doubled.
This growth spurt in women drivers has prompted car makers to innovate and design vehicles to suit women's preferences. A Nielsen study into the subject of gender-based auto needs found that women today play an important role when choosing, and in some cases, even buying the family car.
Who's making the decisions? 
Almost half of all women respondents in the survey were the key decision-makers during car purchases. One in every four women said she was a joint decision-maker on important car features, including the manufacturer and type.
Based on the survey, women not only influence decisions about which car to buy, but on occasions, are also the sole decision-makers on crucial vehicle features. Around 75 percent of women decision-makers said they were the only ones deciding a car's key elements during a purchase.
Nielsen's findings also revealed that income plays a role in women's involvement in the purchase process. Women who earn more than 75,000 rupees a month and are in control of the household budget are the key decision-makers while purchasing a car. Moreover, families with higher incomes have more women decision-makers. According to the survey, older women from more affluent families are also likely to be highly influential at the time of car purchases.
Consider the graphic below (click to magnify):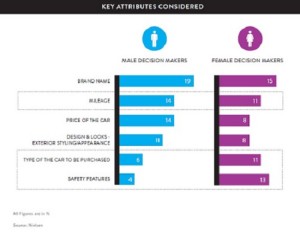 (Featured image courtesy www.bbc.co.uk)