Trends
Published on October 26th, 2017
0
The season's top 3 watches for men
The T-Classic Collection by Tissot has superb timepieces for the suave man, guaranteed to make a superb, lasting first impression.
by The Editors | editor@themetrognome.in
A lot has been said about the unmatched charm of a well-dressed man but what's often taken for granted is the ability of a watch to elevate your look and leave a lasting first impression. Wearing a luxurious watch inevitably puts you in the category of people who respect the value of time and have a polished, timeless sense of style. One of the biggest players in the business, Tissot has carved a niche in the world of timekeeping by setting unparalleled standards in terms of technology, functionality and aesthetics.
The Tissot T-Classic Collection is a true embodiment of the priceless, undying charm associated with a classic watch, especially a gorgeous mechanical timepiece with a beating heart. In this fast-paced world, a classic watch is an invaluable possession and the Internet has made it easier than ever to browse through varied collections of timekeepers and find a great price for classic watches like Tissot.
The T-Classic Collection exemplifies that when it comes to watches, the design is just as important as practicality. It is a mirror reflection of the Swiss watch legacy, known especially for its dependability and durability. The wide range of timepieces is a favourite among many watch lovers, often found being passed on as heirlooms. Given the emotional and material value associated with your wristwatch, you need to pay special attention not just to your choice of brand but also where to buy the watch from. When looking for Tissot Watches in India, it is best to opt for reliable, trusted retailers such as Ethos Watch Boutiques, to ensure seamless sales and after-sales experience.
Here are 3 top watches from the range that are guaranteed to leave a lasting impression: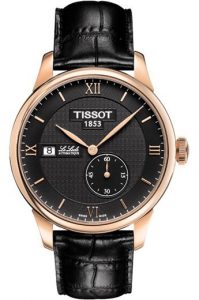 1 Tissot T-Classic: Le Locle (Model No: T006.428.36.058.00)
The name Le Locle itself is a sign of reliability and success. Apart from signifying the Swiss Jura Mountains – heritage and home of Tissot – Le Locle is also the name of a strongly admired range of automatic watches, setting a cornerstone in the world of timekeeping. The classic, round dial is complemented with a traditional black leather strap, making for a versatile addition to your wardrobe. It is a highly elegant and sophisticated timepiece, made special with the addition of the trademark Le Locle signature and roman numerals. The T-Classic Le Locle will give you great company from the early hours of the morning to wee hours of the night.
2 Tissot T-Classic: Tradition (Model No: T063.428.22.038.00)
The perfect blend of everlasting design and modern watchmaking technology, the T-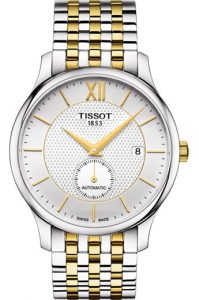 Classic Tradition by Tissot is extremely high-tech in its operation and mechanics. But what makes it truly unique is the intelligent hint of vintage style. The watch features a subtly curved sapphire crystal case and guilloche decoration, strapped in with a sophisticated silver steel and yellow gold strap. It also boasts of a date and small second's keeper.
One would be understating when calling this beauty a faultless amalgamation of top-in-class functionality and ageless aesthetics. The simplicity of the timepiece makes it an ideal companion for everyday use. Be it a 9am meeting or a candle light dinner by the pool, it'll speak volumes about your personality wherever you go.
3 Tissot T-Classic: Classic Dream (Model No: T033.410.16.013.01)
True to its name, the Classic Dream from Tissot's T-Classic Collection is nothing short of a beautiful dream. Contemporary meets nostalgia with this one as the timepiece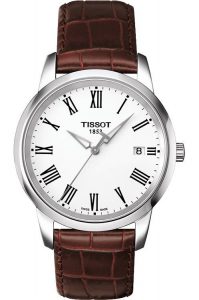 features a brown leather strap with a classic white dial. Made of sapphire crystal, the round steel case is 38mm in size and features Quartz movement. The watch is ideal for a contemporary man who is close to his roots but lives in the modern world. Adding this watch to your wardrobe will serve as a daily reminder that you must strive to be on top of your game every day, just like the pointed hands of the gorgeous timepiece.
All the above-mentioned models from Tissot's T-Classic Collection make an important statement. They add an essence of timeless sophistication and classic elegance to the wearer's wardrobe. Choose a timepiece that feels most true to yourself and your personality, one that'll complement your style any day of the year.