Film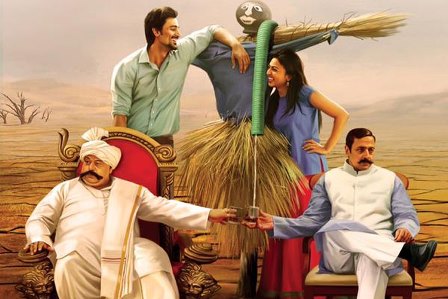 Published on August 30th, 2015
1
Review: Kaun Kitney Paani Mein
An excellent premise – the concept of 'water wars' in the near future – is waylaid by lazy, inconsistent storytelling.
by Ravi Shet
Rating: 2.5 out of 5
Kaun Kitney Paani Mein, directed by Nila Madhab Panda, is a satire based on the issue of water scarcity and how the power equation shifts with it. Set in Odisha, the audiences are introduced to two villages – Upri and Bairi – having a history of shared differences and which are separated by a wall.
Upri is a village housing wealthy people, while's Bairi residents are poor. Most of the latter have been working for the former. However, a massive drought hits the area and this changes the power equation between the two villages. Upri has exhausted its water sources and does not have an alternative, while Bairi has been using its water wisely and also creating storage facilities for it.
In Upri, the once well-to-do Braj Singh Deo (Saurabh Shukla), the raja of the village is now penniless, however, he still has a servant who helps him dress and adjust his fake moustache. He wants to sell his drought-affected village, but there are no takers because there is no water there. Meanwhile, Bairi is prospering under aspiring politician Kharu Pahelwan (Gulshan Grover) where the land is fertile and where there is a good supply of water. Braj Singh Deo devises a plan to get hold of the water from Bairi which involves his son Raj (Kunal Kapoor) trapping Paro (Radhika Apte), daughter of Kharu Phelwan, in love.
The first half of the film is a bit boring, but the pace picks up in the second half. With an excellent premise, director Panda injects the story with humour and empathy. The dialogues by Rahul Singh are top notch, as are a few stray scenes, most of which feature Saurabh Shukla, who carries his character very well. Radhika Apte and Gulshan Grover are good, too. This is a one-time watch only, especially for its performances and the wonderfully choreographed 'Rangapati'.
(Picture courtesy www.ibnlive.com)