Film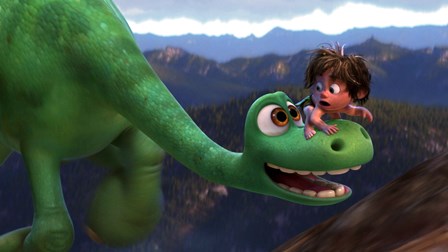 Published on December 15th, 2015
0
Review: The Good Dinosaur
Pixar's newest film based on dinosaurs with good animation, direction and screenplay is a treat for both kids and parents.
by Ravi Shet
Rating: 3 out of 5
Sweet and gently philosophical, this film forces you to think of a parallel universe where dinosaurs might exist.
Set in an alternate timeline 65 million years after an asteroid that would have been reason for the extinction of dinosaurs passes safe and sound over the Earth, the film features Henry (voiced by Jeffrey Wright) and Ida (voiced by Frances McDormand) who are Apatosaurus farmers. They have three children – Buck (voiced by Marcus Scribner), Libby (voiced by Maleah Padilla) and Arlo (voiced by Raymond Ochoa). Buck and Libby are adept at handling responsibilities on their farm; however shy and nervous Arlo is not able to handle the tasks given to him. His father gives him the responsibility of guarding their silo and setting up traps.
One fine day, a caveboy called Spot (voiced by Jack Bright) gets captured in the trap, but Arlo does not kill him, instead he sets him free. Henry is upset by Arlo's behaviour and forces him to track Spot along with him. But a huge flood kills Henry; this angers Arlo who chases Spot down only for both of them to fall into a river.
Arlo soon regains consciousness to realise that he has come far away from home. After a series of mishaps, he becomes friends with Spot, especially when the latter tells him that his parents are dead. A few days later, a storm ruins the land and Arlo remembers his father's death before running to safety on his own.
Director Peter Sohn keeps the story sweet and simple with good animation and the right amount of humour. There is enough pathos and good nature in the film to keep both children and adults engrossed. The film features some really good music numbers as well. I recommend this film for kids who are curious about dinosaurs, and for parents if they want to tell a fresh bedtime story to their young children.
 (Picture courtesy www.christianitytoday.com)