Film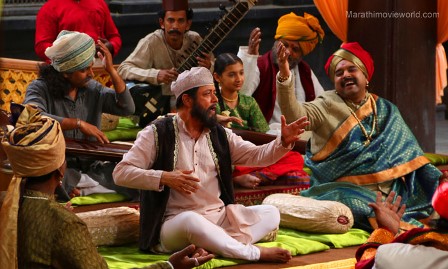 Published on November 15th, 2015
0
Review: Katyar Kaljat Ghusli
Bring alive the festive season with a musical treat comprising stellar performances and a gripping story of a bygone era.
by Ravi Shet
Rating: 4 out of 5
Katyar Kaljat Ghusli first shot to fame in the 1970s as a musical play helmed by singing stalwarts Pt Jitendra Abhisheki and Pt Vasantrao Deshpande. The same story has now been adapted for the big screen by director-actor Subodh Bhave, who also stars in the film.
The plot is based in the pre-independence period in princely Vishrampur, and centres on the clash between two musical gharanas led by Pandit Bhanu Shankar Shastri (Shankar Mahadevan) and Khan Saheb (Sachin Pilgaonkar). Panditji, owing to his talent, is elevated to the Rajgayak (royal singer) status in the State. He is impressed by Khansaheb's talent, though the latter belongs to a different musical gharana, and asks him to move to migrate to Vishrampur.
Khansaheb moves to Vishrampur and performs a jugalbandi with Panditji, where the king declares Panditji as the winner of the competition. A frustrated Khansaheb continues to challenge Panditji year after year; however after a decade Panditji leaves the stage without singing which eventually makes Khansaheb the winner and he gets the Rajgayak status.
Khansaheb moves to the palace where Banke Bihari (Pushkar Shrotri), the State's royal poet, and other royal attendants present him with a dagger (katyar) and inform him that the king would pardon one murder by the dagger.
Meanwhile, Sadashiv (Subodh Bhave) arrives at the palace hoping to take singing lessons from Panditji, but on learning that Khansaheb is the new court singer, he asks for lessons from him instead. Khansaheb is furious when he realises that Sadashiv sings in Panditji's style and refuses to teach him. Though upset, Sadashiv leaves and takes shelter in a place where he meets Uma, Panditji's daughter, and starts learning the notes her father has left behind. Here, he meets  Zareena, Khansaheb's daughter, who urges him to come work in the palace disguised as a servant so that he may learn singing when her father is practicing.
The story moves at a fast pace and several scenes have been stitched together beautifully to create an impact. The music by Shankar–Ehsaan–Loy is impressively scored to recreate a bygone era, and the camerawork is top notch. Debutant director Subodh Bhave has tackled a difficult subject deftly and extracted good performances from the cast, notably from Shankar Mahadevan, Amruta Khanvilkar, Mrunmayee Deshpande and Pushkar Shrotri. But Sachin Pilgaonkar steals the show with his excellent portrayal of Khansaheb.
(Picture courtesy marathimovieworld.com)