Enough said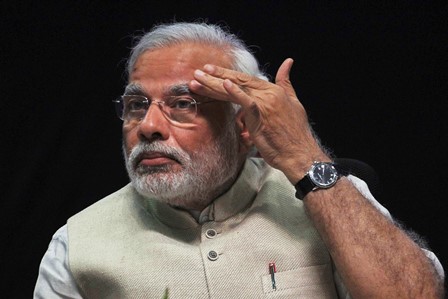 Published on October 10th, 2015
0
The silence of Narendra Modi
Is the PM waiting to comment on communal killings on one of his foreign jaunts? Nothing else explains his silence.
by Humra Quraishi
It is an appalling state of affairs in India at the moment.
The Prime Minister spoke eloquently about cleanliness last year, and even posed for a series of pictures to put himself in the media glare with his Swacch Bharat Abhiyaan. The movement is, since then (ironically enough) gathering dust. Just like everything else – there is no cleanliness left in this country any more. And the onus is on PM Modi to start the drive again.
I refer not to the physical filth in the country, but to the moral rot setting in by degrees against minorities. The PM needs to weed out and clean his own ministers who are accused of playing prominent roles in making light of these serious attacks. Take for instance Dr Mahesh Sharma, Minister of State (Independent charge) for Tourism and Culture. For the last several weeks, this physician-turned-politician has been airing obnoxious views on our TV sets. Last week an innocent man was killed in Dr Sharma's Greater Noida constituency and he termed the killing as a haadsa (accident).
Is this the next step in communal politics? Brand a communal incident as an accident, so that it dilutes or sabotages the investigations? And who will put a stop to these horrific killings in the name of religious sanctity? When will PM Modi break his silence?
We often discount our own terror at these incidents, and tell ourselves that these are stray incidents. But I have been wondering about tourists coming to our lands. Apart from the regular occurrence of rapes, which tourist will feel safe moving around freely in these same areas? Will these communally-charged mobs be lynched for eating mutton or beef in these same areas where Indians are killed for the same offence?
Mr Modi, when will you start branding these mobs as 'terrorists'?
This is a militant form of Hindutva that all of us will have to grapple with in the coming days. It started from the killing and terrorising of the Muslim population in Muzaffarnagar, Uttar Pradesh. The faces of terror in that incident were known well before the actual findings were made public. But these faces continue to be feted in the public arena, nobody has called them out for spreading terror. One of them is now a Minister – Sanjeev Balyan is the Minister of State for Agriculture and Food Processing!
And yet, there is no official statement or even a one-line comment from the PMO. Or is Mr Modi waiting to say something on the matter when he is on one of his many foreign trips?
Break your silence, Mr PM. It is now or never.
Humra Quraishi is a senior political journalist based in Gurgaon. She is the author of Kashmir: The Untold Story and co-author of Simply Khushwant.