Trends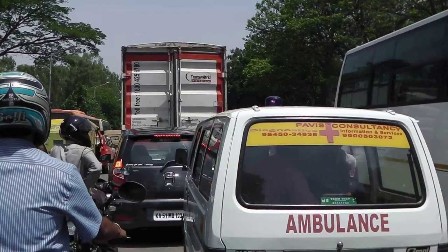 Published on September 7th, 2015
0
Mumbai drivers do not let ambulances pass
Nanavati Hospital's recently conducted mock ambulance drive finds continued apathy from the city's road traffic towards ambulances rushing patients to hospitals.
by The Editors | editor@themetrognome.in
The chances of a patient's survival after a traumatic injury is directly related to how fast (s)he receives emergency care, called as 'Golden Hour' in medical parlance. Aimed at providing quality emergency care, Vile-Parle based Nanavati Super Specialty Hospital recently conducted a mock ambulance drive awareness campaign, named as 'Mujhe Rasta Do'.
The drive was aimed to measure the responsiveness of Mumbai's drivers in giving way to ambulances in traffic, while also creating awareness about giving way to ambulances so that lives may be saved. 10 ambulances drove to Nanavati Hospital from different locations; the aim was to reach in the shortest possible time.
Said Dr Rajendra Patankar, COO, Nanavati Super Speciality Hospital, "It is well established that the patient's chances of survival are greatest if they receive care within a short period of time after a severe injury. In emergency medicine, the Golden Hour is the time period following traumatic injury – a very small duration but with a high possibility of saving a life on providing prompt medical treatment."
The drill included 10 different ambulances travelling from different locations across the city to reach Nanavati Hospital within the shortest time span. The initiative commenced from 11 am with all ambulances travelling from different locations without patients, but with the siren on. "Other vehicles did not make way for the ambulance to pass by, despite hearing the siren. This creates immense pressure on us to help the patient reach the hospital on time.
"Many times, the ambulance gets blocked in huge traffic creating delay to get the patient admitted in the emergency care unit. People also tried to drive right behind the ambulance thinking that if they followed it, they would also reach faster. This creates further blocks and difficulties," said one of the ambulance drivers.
Said Maharashtra Health Minister Dr Deepak Sawant, "The State of Maharashtra has recently created a green corridor for a heart transplant. A green corridor between the hospital in Pune to the airport and another one from Mumbai's Santacruz airport to Mulund was created at a moment's notice. There is an urgent need to create an ambulance freeway to address the emergency medical care needs within the shortest period of time. The State Health Ministry will definitely work towards such initiatives with the State Road Transport Department."
(Picture courtesy www.youtube.com)