Trends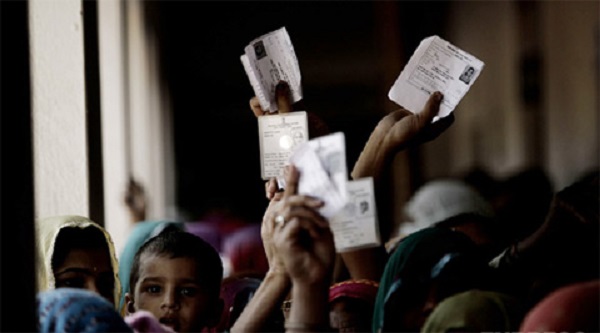 Published on October 20th, 2014
0
More Mumbaikars think sitting MLAs were corrupt
Praja Foundation's survey based on the October 15 State Assembly polls reveals people's perceptions about incumbent MLAs and their parties.
by The Editors | editor@themetrognome.in
The Assembly 2014 verdict for Maharashtra is already out, with the BJP securing the most numbers of seats in 2014's second consecutive election in Maharashtra (after the Lok Sabha polls). Numerous exit polls had already predicted this result, with such factors as anti-incumbency and a purported 'Modi wave' doing the rounds.
However, the Praja Foundation and Hansa Research has just revealed a survey which shows why Mumbaikars could have voted the way they did. It turns out that as per data mapped over the years 2011 to 2014, there is a 17 per cent increase in Mumbaikars rating their sitting MLA as 'corrupt'. This could be fuelled by the MLAs' performance, or the lack of it, in such areas as crime, health, education, and civic issues.
As regards health, some Assembly constituencies like Borivali, Magathane, Dahisar and Vikhroli have performed consistently poorly in areas of control, prevention and deaths related to malaria, diarrhoea, tuberculosis and dengue. These constituencies, apart from Chembur and Colaba, also feature under the 'Crime' category, having done poorly in the areas of murder, crimes against women, chain snatching and rioting.
Mumbaikars have also logged in more complaints on civic issues every year since 2011, with there being a 13 per cent increase in the numbers of people saying their quality of life has decreased in Mumbai.
These are the worst performing Assembly constituencies across all categories, as per the survey: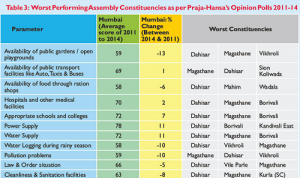 (Picture courtesy indianexpress.com)