Become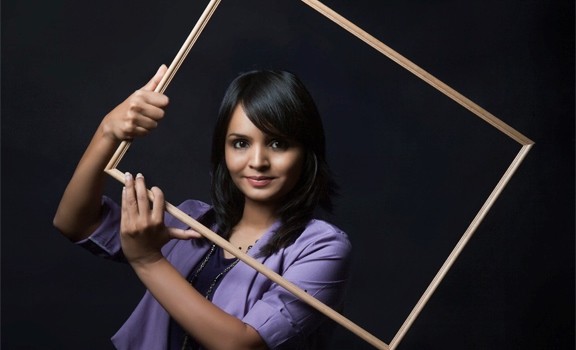 Published on May 20th, 2015
0
Meet the country's first female commercial photographer
Mumbai photographer Shraddha Kadakia has worked with India's biggest brands and gone all over the world on a road less travelled.
by The Editors | editor@themetrognome.in
There's nothing quite like a photograph to tell a story. Pictures can transport you to a distant past, make you see what the future will look like, even reinterpret the present. But for Mumbai photographer Shraddha Kadakia (31), the journey towards an extremely fulfilling career came via an epiphany while she was still in college. "Photography is taught in some good schools, but there is a dreamy quality that one expects from the final product. We're constantly seeing pictures of landscapes, people in different countries, all of it set to postcard perfection. But does anybody teach one to photograph a car tyre? Or a plastic bottle of water?"
We're sitting in Shraddha's Vile Parle office, which she set up 10 years ago when she started her company, Just Click. "I studied photography in Ooty for two years and I was very clear that I wanted to pursue the profession. However, I came into it quite by chance – I always thought I would do something with art and painting. It so happened that during my college days in Sophia, I had drawn paintings for an in-house exhibition. A woman who visited sought me out and asked if I would do Ganesh paintings for a magazine she was associated with," Shraddha says. That woman turned out to be the creative force behind a yearly Ganesh magazine brought out by a prominent media group. "She wasn't very impressed with my sketches, so she asked me to take photos of Ganesh murtis at Lalbaug, with the idea that I could sketch from the photos. I didn't know a thing about taking pictures. All I knew was an Ansel Adams quote that said, 'Everything you see in your viewfinder should look like a painting."
She took several pictures and gave them to the woman for developing. A few days later, she got a call from their office asking her to meet them. "I was stunned to discover that the magazine was shutting down its Ganesh painting series and starting a photography one instead. They used many of my pictures in that issue," Shraddha beams.
From Ganpati to cars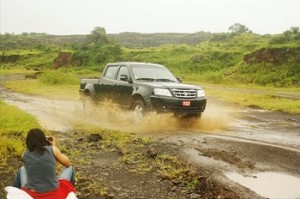 Shraddha's first commercial contract came via an ad agency that was looking for a photographer to do an end-to-end campaign for Skoda. "My quote was the lowest (Rs 21 lakh) and I shot the very first pictures in my building compound to save costs. To further save on the budget, I travelled to Skoda's factory in Aurangabad. I realised early on that photo shoots costs tremendous amounts of money because nobody economises. There is a huge amount of wastage, of both time and resources, when with some clever planning, you can save a lot of the client's money," she explains.
Soon, she realised that she wanted to work directly with clients, instead of being hired by agencies. "I was 21 and fearless. My sole aim was to get work and offer the best possible results to the client. So I shot off emails to the owners and heads of all the prominent business houses in India. After Skoda, I worked on Bajaj. After that, work started rolling in." Today, she says she has "100 national and international clients" on her roster, and she travels extensively all over India and abroad for shoots.
Cutting down costs
Shraddha believes in cutting down expenditure wherever possible. "I normally don't shoot inside studios, so that saves cost. Plus, if there is an aerial shot required, I just climb on the highest structure at site – water tanks, rooftops, even trees – instead of hiring expensive helicopters and cranes. Besides this, my office handles all the post-production in-house and I work with freelancers to save cost and time," she explains.
Coming from a Gujarati business family – "which still has no clue what my work actually is!" – Shraddha was blessed with an inherent seller's instinct.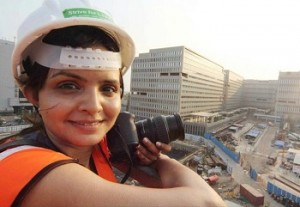 "Photography schools teach you how to take pictures, but not how to sell them. It's all interconnected. You have to get work to sell work, and vice versa. Thankfully, I knew exactly how to approach clients, and with time, I learnt how to price my projects to suit both myself and them," she says.
In her 10 years of work, which started even before the Skoda shoot with a campaign for Jet Airways and on the sets of the film Saawariya (where she was hired to shoot publicity stills), Shraddha has amassed a huge amount of work and goodwill in the industry. "It's an extremely tough business. I teach photography as well, and I always tell my students to choose another career if they're looking to become photographers for the 'glamour' of it. It's a hard grind, and nothing prepares you for it. You're on the road for several days, you might shoot in places that have no restaurants, you will have to work in all conditions, and there's no excuse for shoddy or late delivery of photos. Most people, inspired by what they see in films, think it's a glamourous profession where one travels for free, stays in swanky hotels, shoots a few pictures and gets paid handsomely. There is a tremendous amount of effort you have to invest at every step, especially to come up with creative solutions that the client will like," she says.
Dealing with a man's world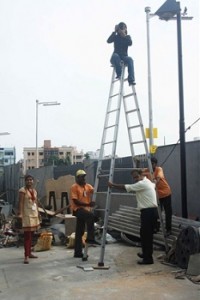 Shraddha is emphatic about wanting more women to join in the ranks. "Every good photographer out there is a man. Where are all the women? Many parents come to me asking me to train their daughters. But then most of them don't let their daughters work late nights or travel. There's no way you can do only some parts of the job and succeed – either jump in completely or do something else," she reasons.
She adds that her family worries for her even today, but they have been largely supportive of her career choices. "I was given the freedom to experiment, fail and pick myself up. And they were there to celebrate with me when I did well. Parents must remember that their involvement is not restricted only to purchasing equipment and giving initial funding for the child to start a career as a photographer. This is a journey that parents must take with their children together," she explains.
Her tips for those starting out
– Be very sure about why you want to be a photographer. It's a very demanding profession.
– Get a small office space where you can sit and even store your supplies. Make space for a few employees. An office is a must.
– Your starting investment will be about Rs 15 lakh (includes office space, hiring staff, getting equipment) so be prepared with the funds.
– Offer a unique proposition to your client, and save his or her money wherever possible. Be transparent in all your dealings.
– Cut down on waste, and that includes hiring staff. Work with freelancers instead of full-time employees.
– Keep a buffer spanning a reasonable amount of time to pay your staff and all the vendors associated with the shoot, whether you have recieved payment from the client or not.
– Even when you're studying photography, think up ways to sell your work. This will give you good training for your business.
– Work directly with clients, instead of being hired by agencies or other companies. This will increase your profit margins.
– Assist a good photographer before you branch out.
(Pictures courtesy Shraddha Kadakia)