Become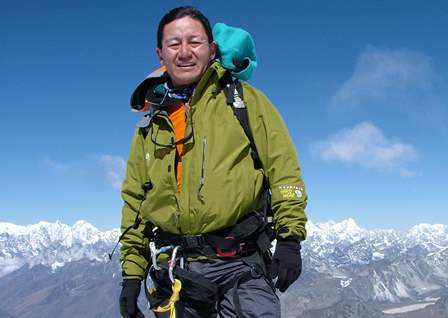 Published on December 18th, 2015
0
"Mount Everest cannot be conquered…"
Says Zamling Tenzing Norgay, the legendary Tenzing Norgay's son, who found his calling in business – and parallels with mountaineering.
by Subhasis Chatterjee
Tenzing Norgay is the world famous Nepalese Sherpa who was the first to climb Mount Everest along with Edmund Hillary of New Zealand in 1953. But his son, the famous mountaineer Zamling Tenzing Norgay is a highly sought-after personality in the business world. Taking a path away from mountaineering, he is a highly rated motivational speaker today.
Zamling was a famous mountaineer in his own right, and also managed to step out of his famous father's shadow. He is part of a legacy of mountaineers who have successfully scaled Mount Everest – as many as 11 of his relatives have also achieved this feat! Today, he is a popular guide in demand for various expeditions groups and has led several novices as well as experts through the rugged Himalayas. He also has multiple philanthropic contributions to his name and has conducted various social service projects in the remote rural areas of the Himalayas.
Zamling's philanthropic contributions include him being an active member of the Sherpa Trust, which was first founded by his late father, Tenzing Norgay and which works for the welfare and betterment of the local Sherpas residing in Darjeeling.
In a recent interview with The Metrognome, Zamling shed light on his view of the mountains and how he finds unique similarities between business and mountaineering. Excerpts from the interview:
Subhasis Chatterjee: You are a successful author, film star and an entrepreneur. Do you consider yourself a wealthy person?
Zamling Tenzing Norgay: Just because someone's famous does not necessarily mean that he or she is rich. Take the example of my father. Although he was famous, he was not rich. The IMAX movie they made on his life did not make him rich. He was offered $25,000, but that was not important for him as he considered the movie to be merely the first step for the world to learn about the Sherpas. The film allowed more people to get a glimpse of this community and their people and livelihoods.
SC: Is there any similarity between conquering Mount Everest and successfully running a corporate firm?
ZTN: Just like climbing a mountain, starting and running a business is also a journey. Similar to mountaineering expeditions, businesses have targets and goals to be achieved and a team to help execute these goals. These are also the similar steps that mountaineers take when they climb Mount Everest or any other mountain in that case. It involves similar steps of planning, strategising and forming a suitable team for executing that plan. Climbing Mount Everest requires individual skills, in-depth knowledge and teamwork to successfully reach the summit of the tallest peak in the world.
I believe that the most important factor integral in whatever walk of life you are involved in is to be passionate about whatever you do. If you are passionate, you will enjoy it more and when getting involved in it, it doesn't seem like a burden to you and you strive to make it better.
SC: The Sherpa view of mountain climbing is very different from the Western view…
ZTN: According to Sherpas, the mountains are the abode of the God, especially Everest. So prior to beginning the mountaineering expedition, we perform religious ceremonies and rites in order to seek God's permission to allow us to climb and to ensure a safe journey ahead. Climbing mountains alone does not interest the Sherpas. They mostly climb because it is necessary for them to earn money through this profession. But Westerners possess a very different belief. They look at the majestic peaks of the Himalayas and say, 'Wow, this is the highest mountain. Let's go conquer it." I am of the view that Mount Everest cannot be conquered but instead you climb it like climbing into your mother's lap.
SC: You have a degree in Business Administration from an American University. Can anyone really learn things like teamwork, management and leadership by studying in a management school?
ZTN: My experiences from a business school education led to me to understand that a B-school simply teaches you the rules of the game. It is a guiding factor, but more than just a degree, experience is required which comes with the passage of time. You cannot become a CEO the moment you get out of business school. You need to work your way up, from being a manager, to a senior manager and then probably a CEO. This is exactly similar to climbing a mountain, one requires training. You become an expert after gathering experience for numerous years.
SC: Did your father ever encourage you to climb Everest?
ZTN: No, never. I even asked him once to pull some strings so that I could join an Indian expedition team for climbing Everest. But he refused. He climbed it because he had to, he himself did not have any education which was why he felt the need to give us a proper one. But surprisingly, after my first climb atop Mount Everest, my uncles revealed to me that my father had always told them that I would one day climb it too! Although he knew it within himself all along, he never encouraged me to climb.
SC: How should one tackle slow learners in a team of mountain climbers? Are there any lessons that can also be used in terms of businesses?
ZTN: During a mountain climb, everyone has to pull each other's weight. Even though you might be a slow learner, you may have a good understanding of the terrain which can also be a significant contribution to the team. And on similar lines, even if you are the fastest learner, you might have no understanding of how to fix lines or logistics. For a successful climb to the mountain summit, a good team is required and not just one fast learner. This is also similar in case of business. You often have weak or slow learners in your team, but you need to support each other. One should always try and get a back-up for them, when climbing a mountain everybody is watching each other's back and supporting each other.
SC: Did your father talk much about his 1953 climb with Edmund Hillary?
ZTN: Most of his stories happened on treks. My father would take clients from Western countries into the Everest Base Camp and then tell his stories during dinner time. Many people paid him extra to listen to his stories. I was very young at that time, may be around only 10. So I did not pay much heed to his stories. But now I wish I had paid more attention!
SC: What is your observation as a motivational expert interacting with people?
ZTN: Currently, there isn't much sense of adventure amongst the people and they do not take time off for going out on an adventure. A few hundred kilometers away from Delhi there is a range of beautiful mountains. But children nowadays are handed with a TV remote or a play station for playing games on the couch. We need to change this way of thinking.