Film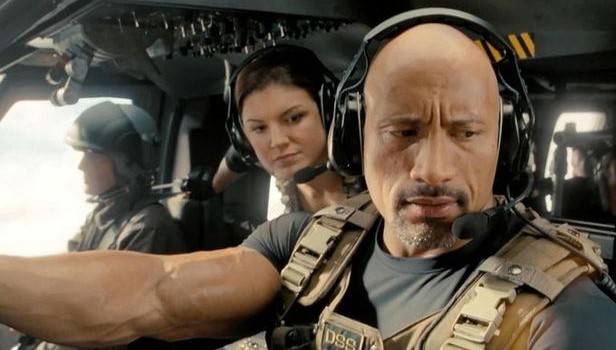 Published on June 2nd, 2015
0
Review: San Andreas
Fast paced, edgy and completely over the top, San Andreas has little to boast of apart from its visual effects.
by Ravi Shet
Within just a few seconds of the opening credits, a car crash happens and our hero Ray (Dwayne Johnson) essaying the role of search and rescue helicopter pilot at Los Angeles Fire Department (LAFD) arrives in a chopper along with his team to rescue the girl stuck in a car hanging in between the mountains.
After the rescue mission, Ray heads to his home to spend the weekend with his daughter Blake (Alexandra Daddario). Emma (Carla Gugino) wants to divorce Ray and she has planned to move in with her affluent boyfriend Daniel (Ioan Gruffudd) along with Blake. But a major earthquake at Nevada dashes Ray's plans for spending the weekend with Blake since his team is required for the rescue effort.
Meanwhile, Dr Lawrence Hayes (Paul Giamatti), a seismology professor at Caltech has devised a mechanism to predict earthquakes, which involves tracking magnetic pulses. Before Dr. Hayes tells the public about the Los Angeles quake, a part of a swarm of tremors hits the town where Emma is having lunch in a restaurant in a high-rise building. Buildings start collapsing one after another like a house of cards, creating chaos and panic. Ray arrives to rescue Emma from the roof of the building in his chopper and heads straight to Blake, who has reached San Francisco with Daniel, where another quake strikes and she is trapped in a vehicle in an underground garage. She is rescued by the good looking Ben (Hugo Johnstone-Burt) and his younger brother Ollie (Art Parkinson). Blake somehow manages to contact Ray and she develops a plan with Ben and Ollie, to meet her parents.
A big thumbs up to the visual effects team working on this film – they have done an amazing job with the subject matter, bringing to life the destruction caused by an unrelenting earthquake. The collapsing bridges, ripped roads and crumbled buildings will make you gasp with their incredible detailing. But there is little else in the film that can be recommended. The plot is contrived, almost Bollywoodesque in its development, and somebody please tell me how an LAFD search and rescue helicopter pilot is allowed to take an official chopper to rescue his daughter, when others are looking for more immediate help in the same situation.
This one's for Dwayne Johnson fans only.
Rating: 2.5 out of 5
(Picture courtesy lottecinemavn.com.)