Event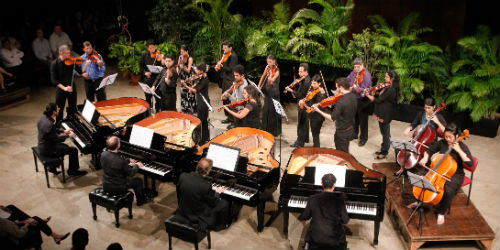 Published on July 17th, 2015
0
The pianos play for 150 years of music
Attend Con Brio 2015, a special event that celebrates 150 years of Furtados. The recital is this evening at NCPA.
by The Editors | editor@themetrognome.in
An NCPA and Furtados presentation, this Western music and piano competition has been organised to celebrate 150 years of Furtados.
The special programme has been devised consisting of works for multiple pianists at multiple pianos. The programme will include highlights from past Con Brios: Glazunov's Festive Cantata with the Paranjoti Academy Chorus, Bach's Concerto for four keyboards with the Bombay Chamber Orchestra and Gershwin's Rhapsody in Blue.
The Paranjoti Academy Chorus and soloists will give the world premiere of the wedding scene from Vanraj Bhatia's opera Agnivarsha. The programme will end with a special arrangement of the finale from Beethoven's 9th Symphony for chorus and 8 pianos sung collectively by several of Mumbai's well-known choruses. The programme will feature Paul Stewart, Marialena Fernandes, Patricia Rozario, Mark Troop, Karl Lutchmayer and several others.
Head to NCPA at 7 pm. Tickets are available at Book My Show.
(Picture courtesy NCPA Mumbai)