Event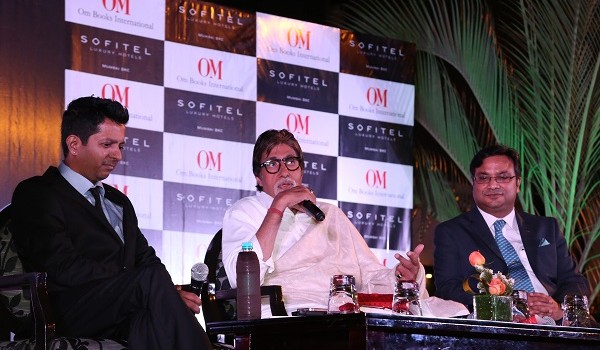 Published on January 24th, 2015
0
Film journalist says 'I hate Bollywood'
'I hate Bollywood' is Mumbai film journalist Rohit Khilnani's debut novel, which was launched by Bollywood film actor Amitabh Bachchan.
by The Editors | editor@themetrognome.in
Amidst a packed house, Bollywood megastar Amitabh Bachchan launched well-known entertainment journalist, Rohit Khilnani's debut novel, I Hate Bollywood at Sofitel, BKC, Mumbai.
At the launch of Rohit's book, Bachchanspoke at length about a chapter in the book, 'The Hospital Beat'. The chapter talks about how reporters cover celebrities when they are admitted in the hospital. It focusses on reporters outside Lilavati Hospital when Bachchan was admitted there in 2006. "Of course the media has to do its job, but there have been times when my car couldn't move because the media had blocked the way," he said, also recollecting an incident when a reporter had entered the hospital in disguise. "Jaya asked me why am I giving interviews from the hospital room, I told her I have not given any interview. Later we realised that this reporter had entered my room dressed as a doctor."
To which the author admitted, "Yes, media can be insensitive sometimes!"
Speaking at the launch, Rohit said, "From my 15 years of experience in film journalism, I have realised one thing: everyone wants to know more and more about Bollywood. So I thought of putting my experiences on paper for all those who love or hate Bollywood. Of course, I have made a fiction story out of it so that it entertains the reader. I Hate Bollywood is like a masala film, it has action, drama and romance!"
The novel takes an interesting look at Bollywood from a reporter's point of view. Born and brought up in Chembur, a Mumbai suburb, in the '80s, Raghu Kumar has his first brush with filmstars as a child. Ever since, he is intrigued by the workings of Bollywood. In the '90s, Raghu is hired by popular film journalist Rajeev Mehra for the newspaper The News, where his big story is an interview of yesteryear star Parveen Babi. Thus starts his tryst with journalism. He then moves on to reporting for news channels, where he has his own programme.
But a trap is laid by a senior colleague to trip him up and he walks right into it. It takes him two years to bounce back. Despite doing well, hobnobbing with top filmstars and getting invited to the best parties in town, Raghu still hates Bollywood.
Rohit Khilnani is the Entertainment Editor at Headlines Today. He specialises in Bollywood and has worked closely with the who's who of the Hindi film industry. He started his career as a freelance writer for India's leading newspapers, including The Times of India and The Indian Express. He has previously worked for NDTV and CNN-IBN.