Event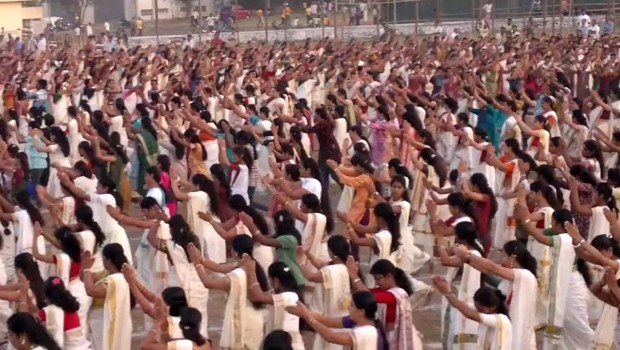 Published on November 9th, 2012
0
Dombivali may create Guinness World Record today
Mumbai Pooram event will see a record 3,500 Kaikottikali dancers perform at Dombivali tonight for a shot at Guinness glory.
by The Editors | editor@themetrognome.in
Dombivali is all geared up for a massive dance show tonight – the KDMC Grounds will witness a historic 3,500 dancers, all of them from different parts of Mumbai and all of them originally from Kerala – where a massive but coordinated Kaikottikali dance performance will be put up on the first-day of a three-day annual cultural fest celebrating Kerala. The show might put the dancers and the event in the Guinness Book of World Records; officials from the organisation will be present to witness the performance for synchronisation and overall presentation.
Interestingly, all ages from years 13 and above are allowed to participate, so the group of dancers will be a motley mix of teenagers, mothers and even grandmothers.
The Metrognome spoke to a participant from Bhandup's Usha Nagar, Madhuri Prathap (40), a Bharatnatyam dance teacher who, with nine of her students, will perform today. "A college friend of mine was one of the organisers for the event, and she told me to enter as many of my students as I could," Madhuri said, adding that the call to participate for the event was made by two coordinators, who went to each Kerala samajam in Mumbai to stress on the fact that this time, the event could try for an entry into the Guinness Book of World Records. Interestingly, the feat has already been performed last year and has won an entry in the Limca Book of Records.
"Last Sunday we had a mega rehearsal at Dombivali, where at least 2,000 dancers turned up to practice. We are nervous but very excited to be a part of such a historic event," Madhuri beamed. "It's a dream come true to be a part of it."
About the event
Modelled on the lines of Kerala's 'Thrissur Pooram', Kerala's most famous temple festival held every year, the Mumbai Pooram is celebrated as a three-day extravaganza with dance performances, laser shows, pyrotechnics, food festivals and exhibitions, among others. Mumbai Pooram is reportedly the biggest Kerala festival held outside that State.
The Kaikottikali is a group dance comprising girls and women dressed in traditional Kerala saris. The mega dance event is called the Dhathri Maha Kaikottikali and has been approved by the Guinness Book of World Records as a viable attempt at creating a record.
(Picture courtesy www.downvids.com)