Eat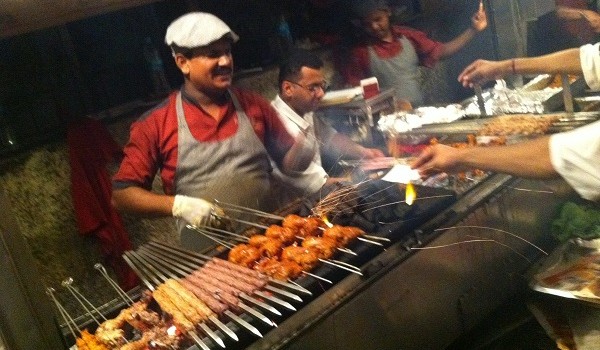 Published on June 10th, 2014
1
Street food and the Mumbai diabetic
Are you a diabetic looking for a snack on the street? There aren't many options, but here's presenting seven items.
by Mamta D | @silverlightgal on Twitter
Indian food is considered to be among the best in the whole world. While many countries are content to consume meat, fish, and vegetables in bland form, India prides itself on its rich, tasty and spicy cuisines. Owing to the diverse communities inhabiting India, our food has become all the more rich, sometimes even fusing two or more cuisines together. Besides the regular home-cooked varieties and food that is available in hotels and restaurants, India is also famous for its street food.
From the chhole bhatures of Delhi's streets to the aloo paranthas of Chandigarh, to the dosai of Chennai and the ubiquitous vada pav of Mumbai, you will find sumptuous spreads right on the street, all at throwaway prices.  Moreover, the roadside stalls are open most of the day and people from any walk of life can consume their wares. Thus, you have a daily wage laborer eating steaming hot vada pavs alongside a well-dressed office-goer. Street food stalls don't discriminate between their customers.
If at all there are any drawbacks to street food, it is that of hygiene and that they are not diabetic-friendly. The matter of hygiene is a controversial one, but once you have taken the plunge, there's no looking back. People often jokingly claim that eating street food over the years has made them more immune to illnesses.
As for diabetic-friendliness, sadly there's not much to cheer. Most of the popular street food is loaded with carbohydrates and/or sugar. For instance, a single vada pav serving is packed with 300 calories and includes 55 gms of carbs. The dabeli which is an import from the street sides of Kutch has approximately 197 calories and 26.5 g of carbs.
Besides vada pav, samosas, and dabelis, there are umpteen roadside idli and dosa stalls. Idlis are high in carbs and have a high glycemic index of 77, so they can hike your blood sugar. Likewise for dosas. If you're a diabetic, stay away from the nimbu pani and gola carts and the sweet lassi counters.
Neither can you indulge in the paani puri. Even if you bravely attempt to consume the paani puri foregoing the sweet chutney, you will not be able to go beyond one attempt. The sweet chutney is meant to serve a purpose and doing away with it does not make sense.
But being a diabetic doesn't have to mean giving up on your taste buds, especially, if you are prone to hypoglycemia and there's no homemade food at hand.
So what are the good street food choices for a diabetic? Try these: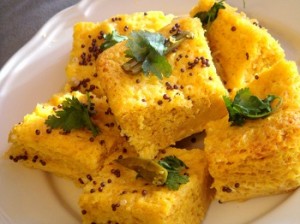 #1) Dhoklas: Dhoklas are made of besan (Bengal gram flour) and so offer a decent alternative to the carb-and glucose-rich foods. Dunk them in the fiery green chutney and voila! You have a tasty healthy snack.
#2) Kanda pohe: Made of flattened or beaten rice and often served warm or hot, this street side food is mostly available during the morning hours as a quickie breakfast. Ensure, however, that there are no potato slices or wedges in the pohe.
#3) Bhel puri: Bhel puri that is mixed without the sweet chutney can be a tasty and yet healthy snack. It has puffed rice, peanuts, finely chopped onions, tomatoes, green chillies, and coriander leaves.
#4) Upma: This rava dish is a perennial favourite across many communities. From South Indians to Maharashtrains, everyone loves upma for its taste value and simplicity. A simple onion upma can be ravishing when you're super hungry.
#5) Misal/Usal Pav: Dipping thick chunks of bread or pav into the fiery red steaming missal that has an array of boiled sprouts floating in it and consuming it before the missal cools down can either be a blissful or a scary experience, depending on how weak or strong your stomach is.True blue Mumbaikars swear bythe missal pav.
#6) Egg bhurji and other egg items: Many roadside corners boast of an anda pav or bhurji pav stall. The bhurji is made in a jiffy with finely chopped tomatoes, onions, slit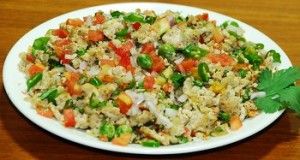 green chillies and scrambled with raw eggs. The hot bhurji is then slid on to your plate with a slick movement and a slice of pav is scraped on the tava, finally landing on your plate on top of the bhurji. On a cold winter evening, taking quick bites of this hot and spicy combination can be quite orgasmic. These stalls also serve boiled eggs and omelettes with pav.
#7) Kebabs and other items: Street food is not limited to the vegetarian varieties alone. There are kebabs, shawarmas, tandoori nuggets, and so on. Bade Miyan's at Colaba, the umpteen stalls at Mohammed Ali street or Abdul Rehman street are the places to go to for these.
As you can see, unfortunately, the number of street food choices for a diabetic are quite low in number.  'Make do with what's available' will be the best policy here than to give in to temptations and have your blood glucose levels shooting up sky high!
(Pictures courtesy asiaexpatguides.com, kiransrecipes.blogspot.com, www.mapsofindia.com)