Eat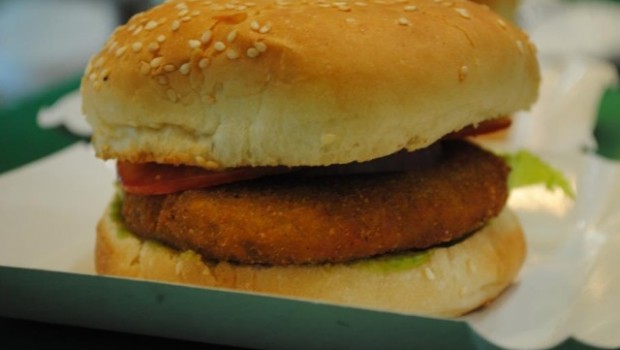 Published on August 7th, 2015
1
5 must-visit burger joints in Mumbai
Mumbai is spoilt for choice when it comes to burger options. We pick 5 little-known places for your eating pleasure.
by Ravi Shet
Burgers are awesome. Vegetarian or not, they are sumptuous and addictive. We went burger-hopping recently and came across 5  places in the city where you can munch scrumptious burgers.
Here is our list, in no particular order.
Café Free India, Lower Parel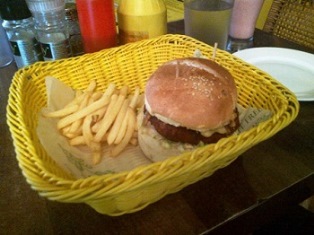 This place has yellow and white walls with wooden chairs and tables, and is situated opposite Deepak Cinema. It was founded by Sachin Roche in May 2012. All their burgers have hand-made patties and are accompanied by fries. Their Veg Parmaggiano Burger (Rs 260) consisting of vegetarian fried patty topped with a tomato concasse and parmesan crust, Juicy Lucy Chicken (Rs 275) consisting of crumb fried patty filled with Swiss and cheddar cheese and Crunchy Cajun Chicken Burger (Rs 275) consisting of cornflakes-crusted chicken breast with a Cajun rub are worth trying out. Sachin says that all patties are hand-made and nothing is kept frozen so that customers can enjoy fresh patties. He also adds that he keeps on experimenting with the patties so that he can offer customers different options.
Meltz Treatz, Kandivali (West)
Serving 100% vegetarian burgers from January 2015, this place is located at Mahavir Nagar, next to Sukh Sagar Restaurant and near D-Mart. Co-owned by
franchise owners Nirmala Valavan, Jaya Bhalchandran, Parvati Vishwanthan and Mukund Sadrani, this place is open on all days from 12 pm to 11 pm serving customers vegetarian burgers in four different buns – Foccacia, Seeded Burger Buns, Multi-grain and Italian Herbs and cheese.
Their Curried Vegetable Burger (Rs 59) consists of veggies having flavours from northern part of India, Chick Peas and Spinach Burger (Rs 59) and Indian Spiced Oats and Moong Dal Burger (Rs 79) are my best picks for their taste and flavours. Nirmala says that the outlet was started to serve healthy burgers which are not easily available at most places.
The Big Burger, Powai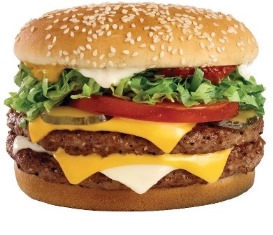 This outlet is situated at Hakone Children's Park, Hiranandani Garden and is founded by Nick Bagga in 2010. They serve grilled meat burgers in chicken or mutton, as well as paneer and crispy vegetarian burgers. Italian Chicken Burger (Rs 160) consisting of chicken, pesto mayo and mozzarella and The Big Burger (Rs 250) consists of two portions of mutton meat and a cheese slice, and are really worth trying out.
Also, the Punjabi Burger (Rs 90) consisting of corn and palak with spicy mint sauce is a good treat for vegetarians. Nick says that the recipes for patties and sauces are his.
The Good Food Co., Vile Parle (East)
Founded in December 2011 by Anuj Jodhani, this place is located at Nehru Road, opposite Brijwasi Sweets. It serves 100% vegetarian burgers. Simply Vego Burger (Rs 50), Corn Cheese Surprise Burger (Rs 100) and Mexicano Burger (Rs 100) are great eats here. Anuj says that the menu comprises only 5 vegetarian burgers, but all are hits among the customers. The outlet plans to add more burger options soon.
Urban Burger 11, Goregaon (West)
At a walkable distance from Goregaon railway station, this outlet at Aarey Road has been serving vegetarian and non-vegetarian burgers from March 2015.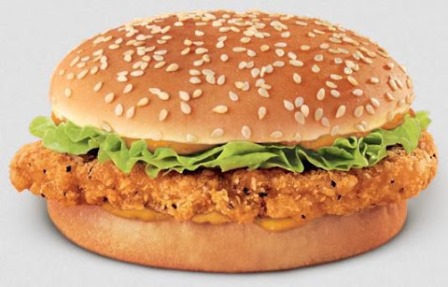 Minty Veg Burger (Rs 45), Chicken Burger (Rs 45) and Chicken Schezwan Burger (Rs 55) are my best picks from here. The patties are hand-made. Hitesh Patel, owner of the outlet says that he wants to introduce more options and is currently experimenting on various combinations.