Guest writer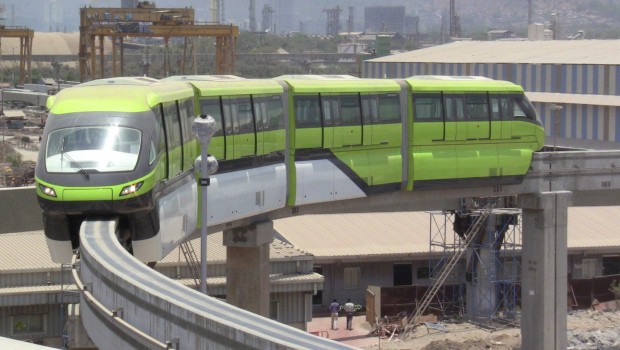 Published on November 7th, 2012
0
Of Ajmal Kasab and Chinese cemeteries
An insider on the monorail system writes on the challenges of the project and why Mumbai will benefit from it.
by Kanesan Velupillai
Mumbai is a densely populated and busy city. It is estimated that over 11 million people here travel by public transport daily, of which more than 60 per cent commute by the suburban railway networks. A huge chunk of the masses commute by state buses, across long stretches from one corner to another. So there is a constant pressure on the existing systems to cope with the urban populace. This highlights a need for better mobility.
The city today requires a transportation network that would act as a feeder service to connect the mass transport systems like the existing suburban rail and the upcoming metro rail in the city capable of serving maximum traffic. Thus, the monorail will be the most suitable mode of travel in Mumbai due to its manoeuvrability that improves connectivity to a great extent. It will easily move through the city's narrow corridors, taking tight turns, thus saving much travel time and decongesting road traffic to a great extent. The route being linked through major areas in the city will benefit the commuters who travel longer distances with a much better and safer mode of transportation.
In 2008, Mumbai Metropolitan Region Development Authorities (MMRDA) proposed to implement a proven and established Monorail System in various parts of Mumbai Metropolitan Region (MMR). Scomi Engineering, in collaboration with its consortium partner Larsen & Toubro secured the Mumbai Monorail project from the MMRDA for an amount of USD 545.02 million for a dual phase construction. The first phase runs from Jacob Circle to Wadala and the second from Wadala to Chembur. The other contenders included Hitachi, Bombardier etc. who were bidding in consortium with Indian infrastructure developers.
Why a monorail?
The monorail, as a mass rapid transit system, comes with the minimum infrastructural needs that make it the most viable commute option in Mumbai. It does not involve dismantling of existing buildings and structures for construction. It is made to move in routes where there is no scope for road widening. The lighter and smaller monorail coaches also reduce implementation time. It has also proved to be highly cost-effective when it comes to machinery in its construction; it requires only a single beam and is elevated, so it calls for a smaller section of footprint than other rail networks. This leads to lesser space for tracks, and demand for less material. Hence, there are no constructional hazards in setting up the monorail.
The first 20-kilometre corridor of the system in Mumbai is established in dual phase – it runs across Chembur-Wadala-Jacob Circle area, which is the second longest in the world after the 23.8 km long monorail corridor in Japan. A monorail with four cars will have a capacity to ferry 562 passengers, while one with six cars will be able to accommodate 852 commuters.
Some challenges and a surprise
The few challenges that we faced were in terms of getting clearances from different concerned departments, specially the stay in construction work of the monorail line near Arthur Road where terrorist Kasab was housed in a jail following the terror attacks in 2008. While working, we also discovered that the monorail alignment passes many interesting parts of Mumbai, including a Chinese cemetery!  It was surprising to find this out.
Current status
In association with MMRDA, we have completed a successful trial run on the Chembur-Wadala route in February 2012. The second phase of testing and commissioning is scheduled in November 2012, followed by the commencement of commercial services in January 2013.
Kanesan Velupillai is Group Chief Operation Officer, Transport Solutions, Scomi Group Berhad, that is a Malaysia-based firm bringing the monorail to Mumbai.