Guest writer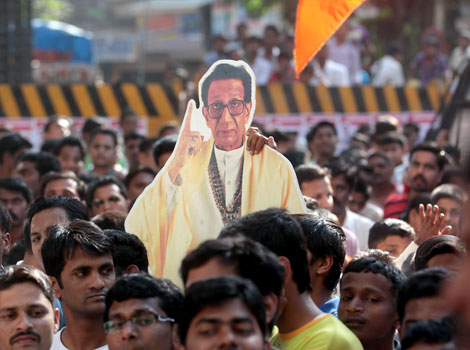 Published on November 17th, 2012
0
Ek tha tiger
Prakash Bal Joshi writes on the life and times of Bal Keshav Thackeray, Maharashtra state's most enigmatic politician to date.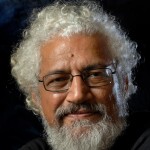 Bal Keshav Thackeray who ruled Mumbai, the commercial capital of India for four decades and ran his right wing outfit, the Shiv Sena, with an iron fist, passed away today after a long battle with a pancreatic illness. With his passing has gone an enigma from state politics.
Born on January 23, 1926, he began his career as a cartoonist for The Free Press Journal and later created a sort of world record by addressing huge public rallies  year after year at the same venue – Shivaji Park – for a straight 46 years.
After working with a renowned cartoonist like RK Laxman, he launched and edited Marmik, a weekly periodical that carried cartoons drawn by Balasaheb. His subject was Marathi ethos. It was easy for him to turn the periodical into a mouthpiece for the Shiv Sena in 1966, to organise and fight for unemployed Marathi-speaking youths. Initially, he went after the South Indian population in the city, for depriving Marathi youth of clerical jobs in government as well as the private sector in Mumbai and around.
Under his stewardship, the Shiv Sena grew from strength to strength in the decade signalling the 1970s, when communist trade unions in Mumbai metropolis controlling most of the textile mills began losing their grip. The then Congress Chief Minister Vasantrao Naik used the aggressive Shiv Sena against Leftist organisations, as well as maverick trade union leader Datta Samant, who had launched a historic strike in textile mills in the state capital. Thackeray first slowly captured power in the Brihanmumbai Municipal Corporation (BMC) and the neighboring Thane Municipal Corporation (TMC), later rising to turn the Shiv Sena into the most militant right wing Hindu nationalist organisation in Maharashtra. He molded his father 'Prabodhankar' Thackeray's progressive philosophy to suit his line of action.
Thackeray grew from strength to strength and from one controversy to another; his rallies were always massive as people came from far off places to listen to his colourful speeches lampooning Congress leaders. Unlike traditional political leaders, he never considered caste factor while promoting his party workers or appointing them on plum posts. His political friends as well as opponents always respected him for his direct approach and ability to take decisions against popular sentiments.
He had penchant for making highly inflammable and controversial statements and always remain in the lime light. Due to political compulsions, the Congress government in the State never took any serious action against him, even when demands were made for strong action for his provocative statements. His appreciation of Hitler as an artist and orator created such a kind of controversy that even international media took note of this politician.
In the early 1980s, he changed his political track in a bid to expand his base. From merely talking about the ethos of the Marathi manoos, he began projecting the Shiv Sena as the most militant Hindutva organisation. Despite strong opposition from a section within the BJP – later to become its ally in the State, when Pramod Mahajan succeeded in forging an alliance owing to his excellent personal relations with Balasaheb – the relationship between the two remained intact and helped both the parties grow in the Congress-dominated State, and later catapulted the BJP to power in Delhi by aligning with like-minded regional parties.  As the Shiv Sena grew in rural Maharashtra, Thackeray started Saamna, a daily newspaper that till date serves as the party's mouthpiece.
The Shiv Sena always remained a key player in Maharashtra, and when the saffron alliance came to power, Balasaheb decided to appoint Manohar Joshi as the State's first non-Congress Chief Minister. At this time, he also earned the nickname 'Remote Control'. In 1992, he claimed that his Sainiks were responsible for the demolition of the controversial Babri Masjid, and the Remote Control earned a new sobriquet – Hindu Hriday Samrat (Emperor of Hindus' heart).
He also faced and weathered many political crises, as some of his trusted lieutenants left him for one or the other reason. Chhagan Bhujbal left when he opposed the Mandal Commission, later former Sena Chief Minister Narayan Rane left with his supporters and joined the Congress. A much bigger shock was in store when his nephew and supposed political heir Raj Thackeray left the Sena and set up his own political party, the Maharashtra Navnirman Sena (MNS). In recent times, Thackeray Sr made several attempts to reconcile his son Uddhav and Raj, with his last attempt being the pre-recorded speech at Shivaji Park that he made in this year's Dussehra rally. His appeal to the Marathi people to remain united would be his last appeal at his beloved Shivaji Park.
Prakash Bal Joshi is a veteran state political journalist and renowned artist. He last worked with The Times of India, Mumbai. 
(Picture courtesy www.hindustantimes.com)