Achieve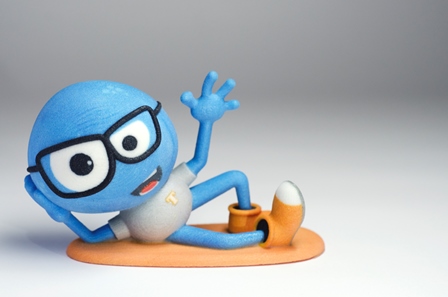 Published on October 8th, 2015
0
Playing God with the inanimate
We catch up with Mumbai's first 3D designing and printing firm that brings all your fantasies to life – seriously!
by Ritika Bhandari Parekh
It looks like a scene from the future – jewellery being printed from a printer. And no, it isn't paper jewellery. We are talking about wearable jewellery, from earrings to rings. Intrigued? We were too.
When 28-year old Siddharth Sah finished his MBA from California in 2012, he decided to fuse his love for design with his inherited business genes. The result: a one-of-its-kind 3D Design Studio in Churchgate, called Make Whale.
Be it jewellery or a carved bottle to hold your messages, a Ganpati idol or a wacky creation of your company logo – Make Whale gives you an opportunity to go wild in your thoughts and shape them. Intricately carved or flexible in design, the design studio gives you complete freedom to mould your creations and showcase them.
"Our thumb-imprinted cufflinks are gaining much popularity these days. As each product is designed from scratch, we have no inventory as such. Also depending on the style, designs and colours, we choose the material which will fit best for the product. So while sandstone allows for a multicolour product, it is difficult to have interlocking designs in the same material," he says. "Steel helps to give various finishes, for instance gold-plated jewellery. But there are design limitations, too."
Sah tell us how 3-D printing as a technology has been around for 30 years, but its advancement began only in the last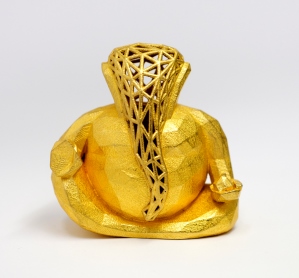 five years. "I remember taking a joint class in design as a business student, to understand the world from their angle. The first-time I witnessed 3D printing at the prestigious Art Center College of Design, Pasadena, I was hooked."
Studying the market and understanding if all the hype around 3D printing – does it have or not have substance – led him to opening the business venture. "After a lot of research and development, we started in August 2015. I have a team of product designers who help with the gift designs and an experienced automotive engineer," he explains.
A graduate of Jai Hind College, this SoBo man believes that besides bobble heads, the market for 3D printed gifts is still in its nascent stage in India. With the focus on designing, Make Whale wishes to plunge deep into the elite society weddings and corporate gifting arena. "Whether customising candle stands or napkin rings with the initials of the bride and groom, the possibilities are endless. Our focus is on the consumer and once we are a bit more settled, we wish to bring out ceramic plates and mugs which adhere to the food safety standards," he says.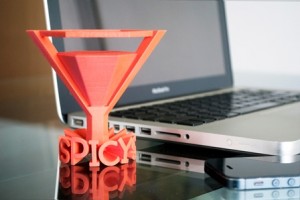 Their office has an in-house 3D printer to give the consumer an idea of how his creation will look as a prototype. And that is where the magic happens. A loop of material attached from the rear is heated till the design from the SD card finally takes shape in its current avatar. The designing process takes from a week to 10 days' time, while the 3D model prototype arrives within a couple of days. Once approved, the final product takes three weeks to be created and delivered.
In a small way, 3D printing gives mortals like us a chance to play God. Inanimate gifts are created, designed, re-designed and produced. The limitation is only your imagination and the materials, to some extent. Sah signs off hoping to see you the next time brandishing your creative juices, keeping your gifts anchored in fantastical reality and designing it with Make Whale.
To know more about Make Whale and their products, log on to http://www.makewhale.com. Look up more images on our Facebook page.