Little people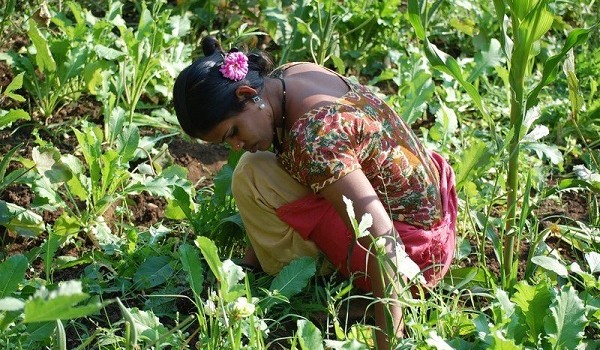 Published on April 6th, 2015
0
'Nutri gardens' for children
Children in tribal areas of Maharashtra are overcoming malnutrition with a garden and organic farm concept launched with farmers' associations.
by TERI Features Service
Three and a half-year-old Manish Hiraman Gowari, a resident of Khanivali village in Thane district, Maharashtra, was detected with severe acute malnutrition in 2013. He weighed just 9.9 kg then, when the standard prescribed by WHO is above 16 kg. Due to the introduction of a concept called 'Nutri-Garden', his life changed forever. Regular intake of protein supplements and balanced diet as advised by the project partners and doctors enabled Manish to increase his weight by more than 26 per cent in just three months.
Many children like Manish in the tribal areas of Maharashtra have benefited from a project launched by The Energy and Resources Institute (TERI), Indian Oil Corporation Ltd. (IOCL) and the Thane Zilla Parishad (TZP), which was implemented with the help of Kisan Seva Kendras (KSKs) of IOCL and TZP. The project has today reached out to more than 900 children in 42 villages in the district.
Methods and measures
Khanivali village in Wada block was selected to implement a pilot project between June 2013 and February 2014. The project aimed to address the prevailing issue of malnourishment among Severe Acute Malnourished (SAM) and Moderate Acute Malnourished (MAM) children and to assess if SAM and MAM children could be brought into the normal category.
"To ensure sustained positive health impacts on the SAM and MAM children, it was not only essential to provide enriched nutri supplements like protein powders, vitamin tablets, but also include appropriate nutritious food ingredients in their daily diet," says Dr. Anjali Parasnis, Associate Director, TERI. While assessing the potential of available resources like land, water and manpower, TERI promoted the concept of "Nutri-Gardens" to ensure local availability of four focused ingredients, namely spinach, papaya, sweet potato and mushrooms, which could be easily cultivated in the region, and if cultivation is not possible, the same are easily available in the market at affordable rates throughout the year.
Given that women play an important role in the health and wellbeing of a family, the focus of the program was centered on the mothers of SAM and MAM children and aanganwadi sevikas (child daycare centre workers), responsible for providing mid-day meals to these malnourished children of Khanivali village. They were provided with a "Nutri Kit" comprising resource material in local language elaborating on the crux of the issue of malnutrition, the strategies to overcome it, easy-to-follow recipes, seeds and methods to grow the identified food ingredients.
Regular awareness programs, encouragement to consume the identified food ingredients and monitoring helped bring down the number of malnourished children. When provided with protein rich milk supplements as a short-term strategy, along with balanced diets, to the targeted 140 malnourished children for a period of three months, it was observed that around 68 per cent children, who were earlier designated as MAM, showed improvement in health and were assigned into a normal category, whereas, 32 per cent SAM children were upgraded to the MAM category.
"Given the ease of adopting the concept of "Nutri-Garden", its long-term impact and encouraging results, the concept has tremendous potential for replication in other areas," adds Dr Parasnis. Furthermore, TERI is currently focusing on the issue of malnutrition in both rural and urban areas through its program called PROTEIN — Program to Revitalize the Overall health of the Tribals/Teenagers by Ensuring Intake of Nutritious food products.
For more information on the project, please contact Dr. Anjali Parasnis, Associate Director, TERI (anjalip@teri.res.in).
(Picture courtesy www.thebetterindia.com. Image used for representational purpose only)