Swaad 'Anu'saar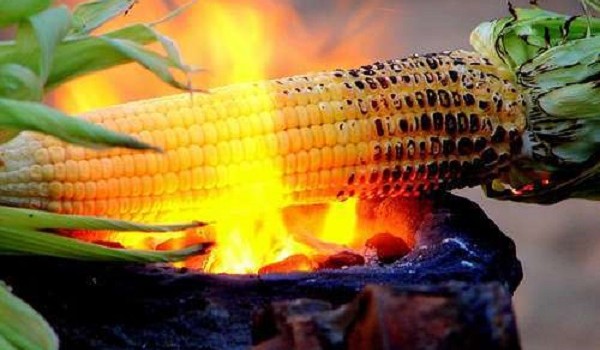 Published on July 13th, 2013
0
The ultimate monsoon comfort food
What's better than the monsoon in Mumbai, despite killing rains? Food that makes the season even more special, that's what!
by Anurita Gupta
Mumbai without monsoons is a Mumbai without colour, without some of its spirit. But now that the rains are here, let's celebrate!
While you must have completed your neon-colored-raincoat-and-gumboots-shopping routine from Linking road, there is a lot more to do while baarish sings at your window sill; for instance, figuring out some rainy season comfort food and drink. Here are a few of my favourites that make monsoons even more cozy and comforting.
Kadak adrak chai: While it is the unofficial drink of India, Mumbai's cutting chai with a dash of ginger is best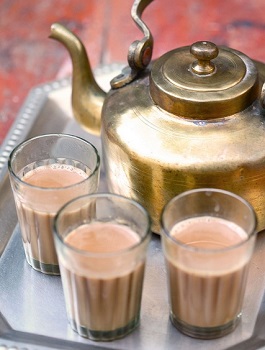 enjoyed during the rains. Not only does it enhance the taste of crisp mirchi and paneer pakodas, but ginger is good for us as well. Being a natural astringent, it aids in digestion and can actually cure the common stomach flu that tends to bother us in this season. Ginger is also known to sooth cold and cough and other allergies. So enjoy a cuppa while watching the rain soak the streets of the city. If you choose to make it on your own, then just add some thinly sliced ginger in regular chai before adding milk. Boil for two minutes and pour.
Kanda bhajji: There is no better snack that accompanies a kadak adrakwali chai in the monsoon than the Mumbaiyya kanda bhajji. These are onion and gram flour fritters. Enjoy it at a chai ki tapri near you or make them fresh at home.
Here's how you do it: Make a thick paste of besan (gram flour) and water; add a spoon of cornflour, salt to taste, dry mango powder (aamchoor) and chilly powder, along with dhaniya powder and ginger garlic paste. Thinly slice onions. Dunk them in the batter and throw bit by bit in a heated kadhai of mustard oil. Deep fry until the bhajjis become golden brown, and enjoy with a nice sprinkling of chaat masala on top. Happy chomping!
Wonton soup: Pour yourself a bowl of soup while it's pouring outside! All you have to do it to cook up some chicken or vegetable broth. You can make one yourself by throwing in actual chicken or some vegetables in a cooker. Give it a whistle or two, strain and serve. Or you can also pick up Maggi stock cubes to make the broth. Once done, open up a packet of frozen wontons, swirl in the hot broth for two minutes and serve with a spritz of lemon and a dash of ground black pepper.
Bhutta nimbu masala maar ke: At every nook and corner of Mumbai streets, you will find the delicious bhutta, i.e. corn on the cob. If it rains, it calls for a bhutta, that too with a genuine helping of lemon juice and chaat masala. The bhuttawala will happily give you the option of soft and hard, sweet and regular corn. Choose the one you like, watch it get grilled on coal and then relish it while taking a walk at Marine drive.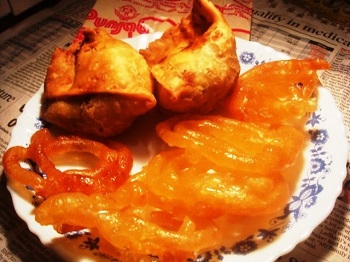 Garma garam jalebi samosa: If your sweet tooth takes a fancy to the rains, then the sweet dish that complements it the most is hot, crisp jalebi. These concentric circles made from flour and sugar and doused in chashni are heavenly when combined with crusty samosas. This combination is really one made in heaven. Enjoy it at a halwai shop near you or parcel it for a late monsoon night, when it tastes brilliant eaten cold with a glass of warm milk.
If you have firang taste buds, then chips and dips are a good choice with sizzling brownie and ice cream for those who love sweets. So go ahead, sing your favourite rain song as you sip hot chai and eat steaming hot bhajjis!
Anurita Gupta is a media professional who is passionate about two things – food and radio. Her love for all things food makes her a foodie with a cause.
(Pictures courtesy healthbeautyfitness.in, know.burrp.com, finelychoppedk.wordpress.com)