Swaad 'Anu'saar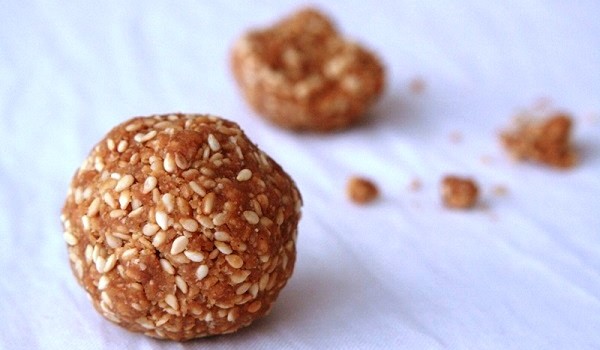 Published on January 7th, 2014
0
Saal ki shuruaat mein kuchh meetha ho jaaye!
Make the start of 2014 even sweeter with these traditional Makar Sankranti recipes that are great for the winter, too.
by Anurita Gupta
Naye saal ki shuruaat meethe ke saath!
To make 2014 even sweeter, I present to you some traditional sweet treats that are not just part of the upcoming Makar Sankranti festival (on January 14) but which are also good for the soul in winters.
Thankfully, the month of January rings in cool breezes and celebrations with various names. Call it Makar Sankranti, Pongal, Bihu or Uttarayan, January 14 every year is celebrated as the harvest festival in the country. So let's take a look at few of the traditional dishes that various communities make on the day that are equally yum on any other.
Til-gud laddoo: "Til gul ghya, aani god god bola" which means 'Receive these til and gud and speak sweet words' is how Maharashtrians begin Makar Sankranti, where they aim to remove all negative feelings and animosity by talking sweetly with each other and becoming friends once again. However, til and gud are two ingredients that are used in many delicacies made by other communities as well.
For now let us relish the til-gud laddoo. All you need is a cup of white sesame seeds (til), 2 big spoons of dry roasted peanuts crushed, 1/2 cup jaggery (gud) and a pinch of elaichi powder and ghee. Roast the dry sesame seeds on medium flame until they start giving out a strong nutty aroma and the seeds begin to pop. Remove from heat. Now heat the gud with 2 tablespoons of water on medium heat so that it melts evenly and does not get burnt. How do you know if the gud slurry is ready? Add a drop of gud in a plate of water. If it stays put, it is ready.
Now add the sesame and peanuts to the mixture and remove from heat. Add elaichi powder to this and start working quickly. Take a spoonful of mixture on a clean plate so it cools down a bit before you start rolling out small 2 inch-sized balls with your ghee greased hands.
Hot tip: If the mixture cools down before you have finished making all the laddoos, then reheat and start over again. To avoid this, get a bunch of your family members to give you a hand and let the festivities roll.
Undhiyu: Our Gujju biradari loves its 'undhiyu' to the core. It consists of baked vegetables with all the spices and chillies that Gujaratis love. Undhiyu is a special dish made for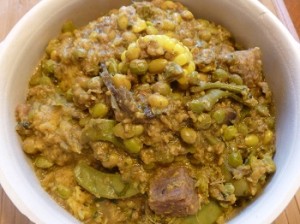 January 14 and is called uttarayan as well. The name of this special delicacy comes from the Gujarati terms 'matlu' meaning 'earthen pot' and 'undhu' meaning 'upside down', considering the vegetables are cooked upside down under the ground in a matka and the heat is provided from above.
Undhiyu is a winter time dish and has vegetables that are readily available in the South of Gujarat in this time, like green beans, sweet peas (also known as 'surti papdi'), raw bananas and yam. The spicy curry has a special touch. Here's how you make it. There is quite an extensive list to make this one.
You need 2 small earthen pots (fired matlu), 2 tbsp castor oil (edible), 2 bunches custard apple and jamun leaves. For the oven, you can also use salad leaves. The vegetables needed are a kilo of papdi, 1 kilo of surti papdi, 200 gm each of parwal, tindora, cucumber and French beans, 100 gm green grams and 4 raw bananas, 2 potatoes, 2 tbsp onion seeds, oil and salt to taste.
For the green masala, you need 4 cups finely chopped coriander leaves, 2 cups grated fresh coconut, 200 gm green chillies, 3 tsp dhana jeera powder, red chilli powder to taste, 1 tsp haldi, ½ a tsp asafoetida (hing), 2 tbsp ghee and 2 tbsp lemon juice. After you prepare the extensive number of ingredients, take heart, because putting together the dish is fairly simple.
A day before cooking, wash the pots well and dry them completely. Then apply castor oil inside them, cover and keep aside. The next day, cut all the vegetables and grind the green masala separately while using a bit of ghee to make into a coarse paste. Add all the spices and onion seeds etc., to it. Now mix the green masala with the vegetables except the papdi. Season the papdi well. Now in the pot, put a layer of the vegetables and then the papdi. Repeat until the pot is full up. Cover and cook. You can't quite put it underground but you can cook all the stuff with the 'dum' method – sealing the pot with dough and letting it simmer for 2-3 hours.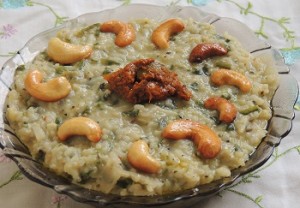 Pongal rice: The first festival of the New Year is called Pongal in the Tamil community. No wonder then there is a special sweet dish that is inspired by the name of the festival: Pongal rice. This is a rather simple dish, prepared to offer to Mother Nature during sunrise. Traditionally, you boil rice with fresh milk and jaggery in new pots that are further topped with brown sugar, cardamoms, cashews and raisins very early in the morning and allow it to boil over a bit. That very moment, the tradition says you shout out "Ponggalo Ponggal!" and blow the conch, a ritual that is followed to call on happiness, blessings and good tides. Personally I love to enjoy Pongal with freshly-made puri but you can choose to have this delicious, aromatic offering solo.
With that, here's hoping that the New Year brings lots of joyful culinary experiences, successful cooking trysts and of course, goodie good food your way. Khao and ciao!
Anurita Gupta is a media professional who is passionate about two things – food and radio. Her love for all things food makes her a foodie with a cause. 'Swaad Anusaar' is her weekly take on all things food.
(Pictures courtesy enjoyindianfood.blogspot.com, boisdejasmin.com, vidhas-jg.blogspot.com)