Overdose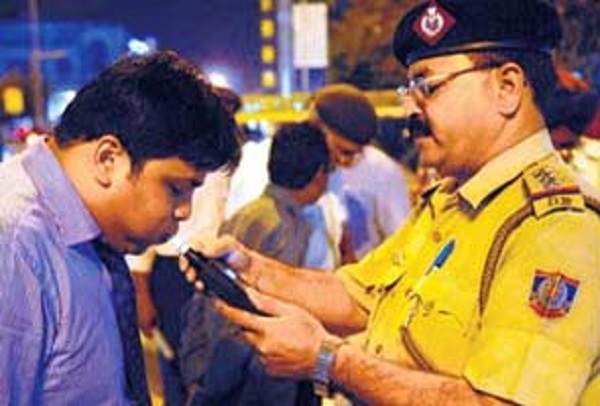 Published on January 27th, 2014
1
Please drink and drive?
What kind of breath analysers are Mumbai's traffic cops using, where the slightest amount of alcohol gets one into trouble?
by Jatin Sharma
Don't be misled by the heading of this column – I am not initiating a drive to turn you into a bevda who breaks a million records (and skulls).
This is not even a population control drive where I want people to dig their own graves by drinking and driving recklessly. But I hope to bring your attention to the faulty breath analysers our traffic policemen use.
We are almost a month into the year 2014, but old problems persist. Mumbai as a city has seen a rise in drivers specialising in dropping drunk people home after a party, thanks largely to the efforts of Mumbai traffic cops, who have done a commendable job of instilling fear in people who drink and drive. But then there are the sniffing traffic constables who make it difficult for the aam aadmi. And they carry breath analysers that don't work well, or not at all. These breath analysers are programmed to show the negative sign the moment you blow in to them.
For the uninitiated, the permissible limit is 30 mg of alcohol per 100 ml of blood. That DOESN'T mean that the moment you have a drop of alcohol in you, you become eligible for a fine. Again, I remind you that I do not support drinking and driving in any manner – it is both stupid and irresponsible to take the wheel after you're drunk. But know this: downing a single peg doesn't automatically mean that you should go through a harrowing breath analyser test.
Most drunk drivers are actually scared the moment they see a traffic cop approach. Add to that fear is the fact that the breath analysers will show negative results, whatever the amount of alcohol in one's blood stream. The Government has started a fabulous initiative against drunk driving, but it should exert the same zeal with regards to the equipment that traffic cops use – a basic need is to ensure that the equipment is hygienic for use.
Most traffic policemen work really hard to serve people. But due to the faulty meters and insufficient hygiene, they have to bear the brunt of people's annoyance. The Government is definitely serious about the issue of drinking and driving, but when will it be equally serious about seeing that the innocent are not victimised? It's not against law to have a single peg (although while driving none is the best), and hence, people should not be victimised.
So what is to be done? Do we insist on drinking and driving till the Government takes the issue of faulty analysers seriously? Tell me your views.
Jatin Sharma is a media professional who doesn't want to grow up, because if he grows up, he will be like everyone else. 'Overdose' is his weekly take on Mumbai's quirks and quibbles.
(Picture courtesy www.ndtv.com)