Overdose
Published on November 18th, 2013
0
BCCI, you disappointed me
Let the BCCI milk Sachin Tendulkar's retirement, but fans will not easily forgive the empty seats during his last match.
by Jatin Sharma
The world cried when Sachin Tendulkar gave his farewell speech at the Wankhede. The speech was not made of words; it comprised emotions that were residing in his heart for long. Bharat Ratna Sachin Tendulkar became a bigger legend with his parting words. The atmosphere was electrifying and all the fans shed a tear written in Sachin's name. For the first time, everyone wanted this test match to never end. It looked like the fans really wanted Sachin to do everything on the ground, from bowling to fielding to batting. They wished that Sachin would never retire.
But despite the tears and smiles and euphoria at having witnessed cricket's legend one last time, I have a complaint with the BCCI.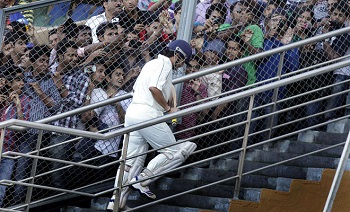 Sachin, the God of Cricket, gave us pure joy for 24 years, and received accolades not just in his country but from all over the world. There is hardly any need to go into his greatness – indeed, in the last few days there have been many articles written about different experts who know more than I do about the man and his legendary moments in the game.
Naturally, that every person who has experienced the joy associated with Sachin Tendulkar would flock to Wankhede Stadium to see him in action one last time. But once the ticketing process started last Monday, all hell promptly broke loose. The official online ticketing partner Kyazoonga's site crashed. Meanwhile, there were rumours that the 'general public quote' number of tickets – 5,000 only – were, in reality, only 3,500 in number. Most of the tickets were given away in quotas and to individuals associated with the game and MCA. With such a carnival atmosphere pervading the city as the day of Sachin's retirement drew close, it was logical to assume that Wankhede would run to a packed house during the match.
WRONG.
I was at Wankhede and I saw empty seats. With so many genuine cricket lovers clamouring for tickets, every single empty seat made me realise that Sachin deserved far better. It's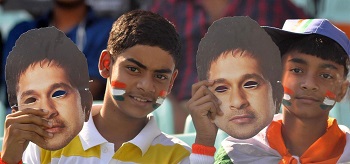 obvious, what happened here – the BCCI goofed up again. Failing to understand the people's sentiments, the BCCI only tried to please its associates and make money off people's fervour for Sachin. If the ticket distribution had been opened to the aam junta, we would have seen a very different scenario at Wankhede. But so many tickets were sent to corporates who only believe in balance sheets, not emotions. If the ticket windows had been opened at the stadium, if the ticket distribution process had been fair, there would have been no black marketing of tickets and no need for people to pay astronomical sums of money for tickets.
Those empty seats were meant for fans, who had no option but to get tickets in black. No wonder they booed the Board authorities during the match presentation. The only people who were cheered on by the public were city Police Commissioner Satyapal Singh and the cricketers themselves.
As a fan, I was quite angry when I saw those empty seats, that were like a sign of BCCI's greed and how they just wanted to make even this, Sachin's swansong, a money making event.
There could have been many more Sachin lovers in the stands than at home in front of their TV sets. Sachin Ramesh Tendulkar, who has time and again credited his fans for his stupendous career, might one day be felicitated by the same BCCI on the same grounds for being the youngest recipient of the Bharat Ratna. But more than anything else, those empty seats will continue to rankle in my memory and dishearten me for years to come.
Jatin Sharma is a media professional who doesn't want to grow up, because if he grows up, he will be like everybody else. 'Overdose' is his weekly take on Mumbai's quirks and quibbles.
(Pictures courtesy blogs.ft.com, sports.in.msn.com, www.indianexpress.com)