Become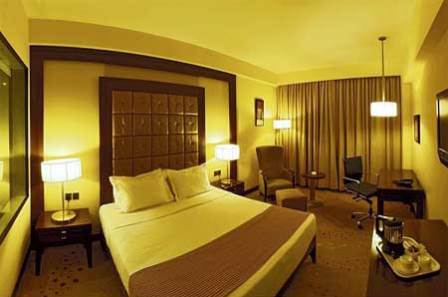 Published on September 29th, 2015
0
Budget stays with a smile
Mumbai-based start-up Vista Rooms has you covered if you're looking for a brief and low-cost stay in India's smaller towns.
by Ritika Bhandari Parekh
Picture this: You have a business meeting at Valsad in Gujarat. And for a one-day visit, you do not wish to spend on a luxury hotel. You wisely choose the option of a local budget stay, but the dilemma arises in picking the right hotel.
Enter Vista Rooms, a budget-friendly option for travellers who wish to experience low-cost branded accommodation. With rooms starting from Rs 800 to Rs 1,500, Vista Rooms is hoping to revolutionise the way a local Indian businessman travels.
An idea germinates
This Mumbai-based start-up was founded by three enterprising individuals – Amit Damani, Ankita Sheth and Pranav Maheshwari. Bidding goodbye to their jobs in the corporate sector, the trio plunged in the competitive budget hotels arena.
28-year old Pranav, who heads the Finance and Technological department says, "The genesis of the idea came from Amit, who travelled the small cities and rural areas of China in his previous job. Over there, he noticed how efficiently one could stay in low-cost hotels and became familiar with their standardisation process. Starting January 2015, he researched the Indian budget hotels domain and chanced upon OYO Rooms which had a similar concept."
With a belief that the budget hotel market is huge and there is space for competitors to co-exist, they started Vista Rooms. Their third partner, Ankita was heading the acquisitions team for OYO Rooms before she quit and joined them.
With a focus on the Tier II and Tier III cities, she manages the offline sales and partnership domain at Vista. While 27-year old Amit is very active in the social domain and handles the marketing relationship with online travel agents.
No more 'Buyers Beware'
Normally, a person making online bookings is solely responsible for selecting their hotel rooms based on the customer reviews and photos uploaded. But the team at Vista Rooms is looking forward to making this dubious 'caveat emptor' style obsolete. "We want our customers to be exceptionally confident that the room they book via our website will adhere to all the parameters set. So from a clean and comfortable room to a hygienic bathroom, free Wi-Fi, complimentary breakfast to a concierge service – Vista Rooms will make sure that your stay in the small towns and sleepy cities of India is perfect," says Pranav.
He continues, "The key to this experience is standardisation. Once a hotel property has the stamp of Vista Rooms, they become a part of our brand and their visibility increases. We do not take over the hotel operations, but help them in the sales, marketing and branding of the services." With the occupancy percentage increasing, it is a win-win situation for the partnering hotels.
The growth story
For Pranav, the most exciting part is the growth story of Vista Rooms. "We started with four properties in April 2015 and over the next four months added 450+ properties across 55 cities in India. This initial success is what helps us stay motivated."
With a vision to be the number one player in the budget hotel scene, they wish to make online bookings and feedback as seamless as flight bookings. With an asset-light and operational-lean model, the start-up has 40 employees under its wings.
Pranav signs off saying, "We are forever scouting for new talent and would welcome a second round of funding." So the next time, you are in Salem or Somnath – fret not. Just head to Vista Rooms and look for your smile-worthy accommodation.
For more information and booking details, please visit their website www.vistarooms.com
(Featured image courtesy www.asiatravel.com)