Tech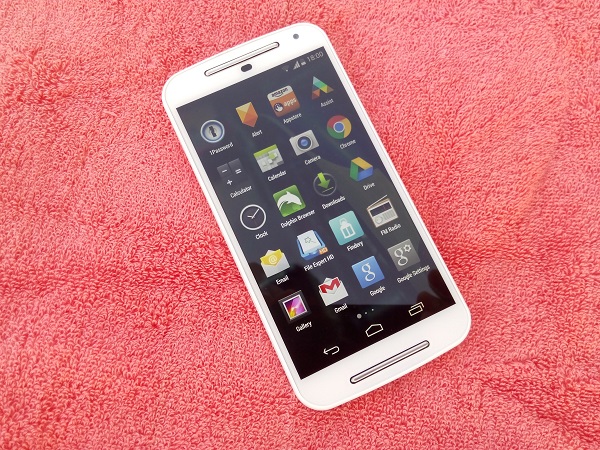 Published on September 23rd, 2014
0
Review: Motorola Moto G (2nd Generation)
What's new and what isn't with the second generation Moto G? We do a spot check and come away impressed.
by Manik Kakra | @Manik_K on Twitter
Ever since Motorola has come back into the Indian market, the company's motto has been to provide a richer Android experience to devices that are priced well below the flagships, something that not many have been able to achieve. The original Moto G was quite great device for its price and it did (still doing) really well in the market. With the new Moto G, Motrola has tried to keep things rather simpler – a refreshed model without too many changes. Does it live up to its predecessor's level? Let's try and find out.
The looks. Motorola's new Moto G (XT1068) follows a different design than the original one, and something that, at least from the front, looks closer to the Moto E. On the white model, the (two silver strips) front-facing speakers (stereo) stand out surrounding the 5-inch 1280 x 720 LCD IPS touchscreen. While the front panel has Gorilla Glass on top, the rear is made up of soft matte plastic material with a slight curve across it.
The phone, at about 150 grams, feels hefty and fits pretty well in your hand. One half of the sides is matte (from the back) and the other is gloss (front part), giving you a solid grip. Other components on the front include the 2 MP front-facing camera, LED notification light, and sensors. The back has the 'M' logo placed in sort of a dimple shell, new 8 MP camera with an LED flash.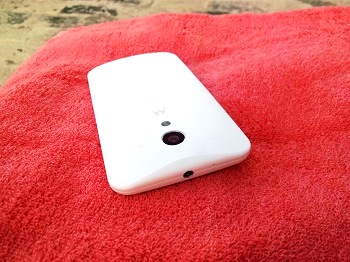 The top houses the 3.5mm headset jack and secondary mic; while the bottom gets the microUSB port. The left side panel is absolutely plain; and the right one houses the volume rockers and Power/Lock key. These physical keys are required to be pressed hard and could have been given a better finish. Just to add, the screen is, as usual, prone to smudges and fingerprints, while the matte back isn't.
The phone is equipped with a larger 5-inch HD screen, and the panel seems to be a different one from the original Moto G. It is bright, slightly better to operate under direct sunlight, has decent viewing angles and colours also appear sharp. If you're used to a full HD panel, you might notice pixels on the screen, but other than that, there's not much to complaint about it.
This dual-SIM handset comes loaded with Bluetooth 4.0, WiFi b/g/n, 3G connectivity, and GPS. As far as connectivity is concerned, the phone performs well. There are no shortcomings regarding network reception, GPS locking-on or Bluetooth use.
The phone's call quality is on par with flagships and the volume level is slightly higher than the original Moto G, if I remember correctly. Coming to the in-ear sound, the default headsets are pretty decent, but they are not comfortable to wear (depending on your size). They keep coming off when used during commuting and make for a rather sub-par experience. On the other hand, the loud speakers on the Moto G are much improved. The front-facing stereo speakers are loud and clear, though not as punchy as you would like them for your videos and games, but they are noticeably better than many handsets in the mid-range.
Camera. The camera seems much improved from the one on the original Moto G. It can not only take more detailed shots but also less grainy. You can view a few images here: http://imgur.com/a/ymXMP
As you can see, images are more detailed, less noisy and colours appear brighter. The phone's native camera app, though, is still not very impressive. Though low-light performance also seems to score better, there is still a lot of scope of improvement in this aspect. The focus mechanism needs work. There are just a few basic settings to choose from and you might want to try third-party camera apps.
Battery. The new Moto G is equipped with a 2,070 mAh battery unit. The phone's battery life is quite good. More often than not, it lasted me a day with around 10 per cent still in the tank. The usage mainly included almost all WiFi for Emails, Twitter, a few videos on the YouTube app, 5 to 10 minutes of calling and half an hour of in-ear music. If you are okay with the Power-saving mode, you can stretch the battery life further.
Performance and software. The Moto G (2nd Generation) is powered by Qualcomm's snapdragon 400 MSM8266 SoC (1.2 GHz quad-core processor, Adreno 305 GPU), along with 1 GB of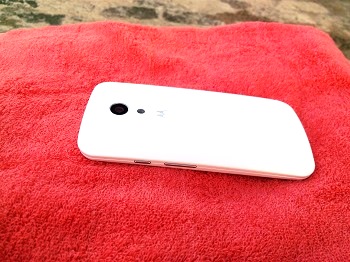 RAM. The phone runs on near-stock Android 4.4.4 with a few little additions done by Motorola. Motorola has included its usual set of apps and services like Assist, Help, Migrate and Alert. The phone feels smooth to operate and doesn't stutter while browsing the Web, playing games or just navigating through the OS.
One thing worth mentioning is that going to and from one app to another, you will see that apps take a bit more time to load than on high-end phones. This is mainly due to Motorola not upgrading the RAM size. Otherwise, this is a capable smartphone that doesn't often lag or show signs of freezing in the OS. If you have used a Nexus device in the last two years, or one of Motorola's recent devices, you will feel at home with the new Moto G. The whole look and feel is that of stock Android 4.4.4, and the next major upgrade is in the pipeline within the first three months of Google releasing it. For storage purposes, you get over 12 GB of space and also the option to use a microSD card of up to 32 GB size.
Wrapping up, the new Moto G can be called as a slight refresh to the original one. With Motorola keeping screen resolution, RAM, SoC and battery unit the same, there mainly only a couple of big changes made. But it is not to say they're completely wrong in doing so. With better camera, good battery life and screen, and decent design, the new Moto G is one of the best performers in this segment. If you already own a Moto G, then you'd do better not to buy this, but if you're looking for an Android smartphone within Rs 15,000, you can surely check out Motorola's newest mid-range offering.