Event
Published on August 1st, 2013
0
Muslim mass rally on Friday
Leaders in city have called for a rally to pressurise Indian Government to petition UN on terror acts in Syria.
by The Editors | editor@themetrognome.in
International al-Quds Day is an annual event on the last Friday of the holy month of Ramadan, expressing solidarity with the Palestinian people and the holy mosque Al-Aqsa, located in Jerusalem (Palestine). Today Muslim leaders in the city united under the banner of Quds Committee in order to condemn the terror acts taking place around the world, specifically in Iraq, Syria and Palestine. The speakers condemned the 17 serial blasts in Iraq which took place on Monday, and the ongoing terror activities happening since several years in Palestine and Syria. They said that Islam being a religion of peace, respects freedom for all countrymen and a secure life.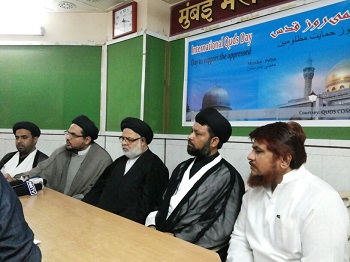 A press conference to discuss the same was held today at Mumbai Marathi Patrakar Sangh, CST.
The leaders also condemned the Israeli and American activities in the land of Palestine, which has been colonised by the Israeli occupants for many years. Quoting Mahatma Gandhi, the leaders said, "Palestine belongs to the Arab, as France belongs to the French and Britain belongs to the British." They asked the Government of India to send a petition to the UN and take some active steps in the international political scenario to make tge US stop funding and supporting the terror activities.
The committee has also decided to organise a mass rally on this Friday, August 2, from Khoja Masjid, Dongri, to get support from people and ask the Government to take strong steps soon.
The participating speakers were Maulana Hasnain Kararvi, Maulana Fayyaz Baqri, Sarfaraz Arzoo,  Maulana Husain Mehdi Husaini, Aliraza Namdar, Maulana Farman Sahab and Maulana Abulqasim.
(Picture courtesy www.latitudenews.com)