Bombay, bas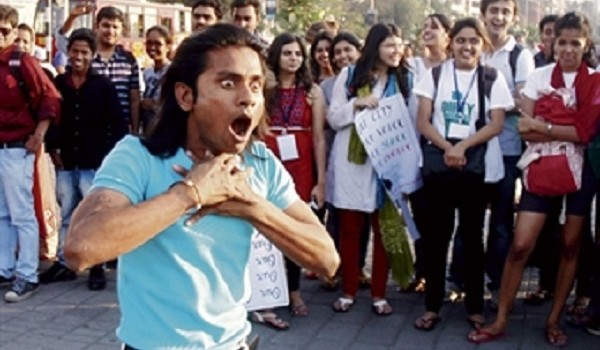 Published on August 1st, 2013
0
The Shahrukh Khan of Marine Drive
The city is home to several film 'strugglers' – while most simply fail, one became a star on the street.
by Nidhi Qazi
After a weekend well spent at the NCPA, spending time at Marine Drive seemed to be the obvious next choice. I couldn't have gone there at a better time, for I saw a crowd of about 30 men huddled to watch someone perform. That someone was a man with long hair, lovingly called 'Shahrukh' by the crowd. He was enacting a Shahrukh Khan dialogue from the movie Mohabbatein, adding his bit of humour. "Woh mere ghar ke saamne se nikalti thi, thoda sharmati thi, lajaati thi. Kuch kehna tha usko magar keh nahi paati thi. Baad mein pata chala, woh gutka chabaati thi." The audience applauded and whistled.
He started on another one from an Ajay Devgan movie – "Mujhe apno ne loota, gairon mein kahaan dum tha. Meri haddi vahaan tooti, jahan hospital band tha." The crowd roared again.
Who is he? I wondered. Catching up with him later, I learnt that 'Shahrukh's' real name was Gabbar Singh. Confused? Wait, let's start this story from the beginning.
The star of Marine Drive
Gabbar Singh Chauhan (25) has been a star entertainer at Marine Drive for almost a decade now. The crowds simply love his acting of the famous movie scenes and stunts and dialogues with his touch of humour thrown in.
Gabbar Singh has been there, done that in Mumbai. Part of a dozen reality shows like India's Got Talent and Entertainment Ke Liye Kuch Bhi Karega, he is a sought-after entertainer in family functions and a regular face at the endless auditions of the reality shows that have mushroomed in the electronic media. He carries a portfolio full of newspaper cuttings featuring him wherever he goes.
Watch a clip of Gabbar performing in Entertainment Ke Liye Kuch Bhi Karega:
He has long straight hair, inspired by Hrithik Roshan's Krrish, a heart tattoo on the right arm and a petite frame, and comes across as another wannabe actor who is in this dream city for his big dream – Bollywood. But that is until you actually hear his story.
A tête–à–tête with Gabbar: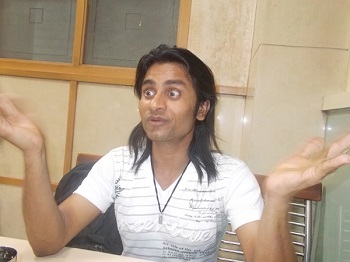 I sat him down for tea at an eatery in Churchgate, and he proceeded to tell me his story. His conversation was liberally peppered with anecdotes illustrating how he is a people's star. As if on cue, a waiter comes to the table and says, "Aap media se lagte ho. Yeh Gabbar Singh hain. Khayaal rakhiye inka. Yeh bahut achche actor hain. Maine inko Girgaon chowpatty mein dekha tha perform karte hue. Jamm ke likhiye inke baare mein (You must be from the media. This is Gabbar Singh. Take note of him, he's a very good actor. I'd seen him perform at Girgaon chowpatty. Write a nice big piece on him.)"
The small display of his fan following aside, Gabbar proceeded with his story. An SSC passout, he is a resident of Mathura, UP and acting was not what he wanted to do. His parents named him Gabbar because he was "stubborn like Gabbar Singh". He said, "I didn't want to want to become an actor. Desh ki janta ne mujhe actor banaya hai (The people of the country made me an actor)." He added, "I saw a Shahrukh film on TV, then enacted the scene in front of a mirror and thought I was a very good actor."
Mathura gave him a platform to perform at local events and his fan following increased. People started calling him 'Mathura ka Shah Rukh'. Eventually, he got coverage in the local media and all this attention led him to come to Mumbai, only to get rejected.
"I came to Mumbai in 2002. People made fun of me when I asked them about Shahrukh's and Amitabh Bachchan's address. Nobody guided me. I didn't know anyone in the film industry." He then went back to Mathura. At that time, he was spotted by a director, and eventually got a role in Ravi Kissen starrer Dharam Shakti. Though the film did not release, it motivated Gabbar to chase his Bollywood dream and he came back in 2004.
Not a struggler
Speaking about his 'public demand', Gabbar says, "Aaj kal ke strugglers ki koi demand nahin hai. Main hoon asli zindagi ka hero. Public kehti ki aisa actor unhone zindagi mein pehli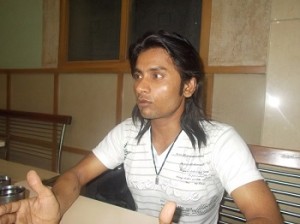 baar dekha hai (No strugglers are in demand these days. I am a real-life actor. People say they have never seen an actor like me in their lives.") But the passion with which he says this doesn't really come across as boastful.
He then shows me a few mobile clippings featuring him. I see the judges laughing at him and point it out to him, but he says, "Judges hans rahein hain kyunki woh mujhe pasand karte hain, mujhe talented maante hain. Farah Khan ne toh mujhe apni film Happy New Year mein ek role bhi offer kiya hai (The judges are laughing because they like me, they think I'm talented. Farah Khan has even offered me a role in her film Happy New Year)."
In one clip, Anu Malik goes a few words further in his appreciation for Gabbar, "Gabbar Singh, tu filmi nahi hai; tu toh apne mein ek poori film hai (You are not just filmi, you are an entire film)." And he believes them all because, "Judges don't lie."
Gabbar's source of income is the performances he gives at birthday parties, orchestras and the stage, and he makes about Rs.10,000 per month. As for Marine Drive, he performs on Thursdays, Saturdays and Sundays from 9 pm till about midnight.
Aiming for the stars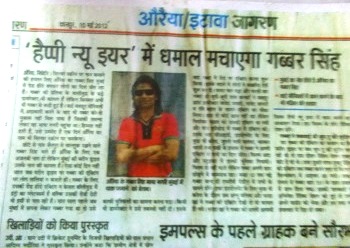 After almost a decade of entertaining people by enacting famous scenes from films with his touch of humour, mimicking and performing several antics, what does he think he has achieved? "Name, popularity and respect," he says. "Public ek star ko jitna pyaar deti hai, mujhe bhi utna deti hai. People ask me for autographs, photographs and wherever I go, people recognise me. Even media asks me for bytes on various incidents."
Having "trained at Prithvi Theatre for three months", Gabbar feels he doesn't lack in talent but the only shortcoming is his improper Hindi and English diction. "Meri angrezi mein shehri touch nahi hai (My English is not very posh)," he rues.
With Bollywood as his "asli maksad", doesn't he feel his chances are reduced due to his non-filmy background? "Background doesn't matter. Yes, the struggle is less but ultimately, public is the real judge. Take Sonu Sood, Shahrukh Khan, Mithun. None of them had a filmy background. Background ka achaar dalenge agar janta pasand nahi karegi!""
When fans follow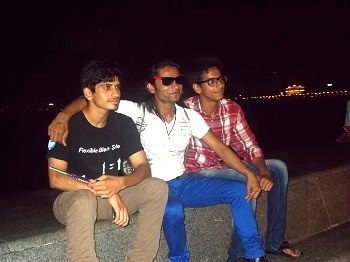 After an hour of talking, we go back to Marine Drive, only to witness the much talked-about fan following. The first in line is a driver who calls out "Namaste, Shahrukhji." Next, a couple of drivers say, "Kya haal Gabbar?" Two men on a motorbike at the signal shout across the road, "Hi, Gabbar!" Finally, at the stretch from Pizza by the Bay to the Air India building, chaiwallahas and local vendors greet Gabbar. There is a group of teenage boys who want to get a picture clicked with their Shahrukh.
We also chance upon the waiter who is done for the day and is relaxing by the seaside. He is Aditya, a huge fan of Gabbar. He says, "So many people like him, watch him. His acting style is fun but he should concentrate more on comedy." He adds, "If big newspapers write about him, he would be instantly noticed by the industry bigwigs."
Meanwhile, Gabbar Singh dials "Farah Khan's number" only to find it "switched off". And we call it a day.
(Pictures courtesy afternoondc.com and Nidhi Qazi)