Eat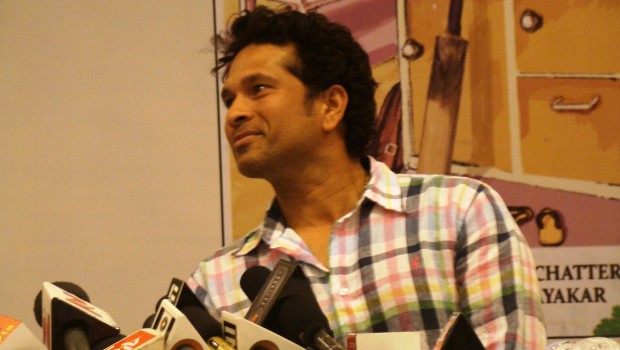 Published on November 2nd, 2012
0
Meet Sachin Tendulkar, Master Foodie
Sachin Tendulkar's food knowledge, and that he can rustle up fish curries in his own kitchen, had us going 'Aila!'
by Vrushali Lad | vrushali@themetrognome.in
What Sachin Tendulkar has shown us of himself thus far, has all happened on the playing field. He is fiercely private about his private life. There are hardly any pictures of him partying the night away. There have never been any controversies pockmarking his personal life. When somebody says something negative about him, he chooses to maintain a dignified silence.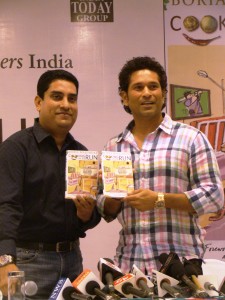 All of this combines to give the impression that Sachin Tendulkar the man, must be very much like Sachin Tendulkar the cricketer – breathing and thinking cricket alone, not very chatty, extremely reserved – a myth he shattered spectacularly at the launch of writer and journalist Boria Majumdar's book, Cooking On The Run, at the Cricket Club of India, yesterday. After Boria requested journalists to restrict their questions for the Master Blaster only to food, he started the conversation with the cricketer about his food experiences, then invited journalists to ask Sachin questions. The legendary batsman candidly answered a volley of reporters' questions about his experiments with cooking, why he loves trying different cuisines, and how his teammates are not as adventurous as him.
How important is it to experiment with food and different cuisines?
It's very important to experiment. Trying out different cuisines gives you an idea of what others are eating around the world. Three years ago, I went to a Japanese restaurant with Suresh Raina, and we had some very good food there. I don't know if he pretended to like it, but he seemed to enjoy the sashimi and sushi. We had also ordered burnt garlic rice, so that was great as well.
Tell us a bit about Harbhajan Singh's taste in food.
I remember when we were touring South Africa, he told me he wanted to eat and become tagda (laughs). I took him to the Butcher's Grill, a restaurant in Johannesberg, and he enjoyed what we ordered. But he seems to like Thai and Chinese cuisines the most.
What has been the weirdest thing you've eaten?
It would have to be snails! They were prepared in garlic sauce, and I thought they were a bit difficult to digest. They were not good at all; I ate them with Anjali and we didn't like it. I don't think I'll ever eat them again.
How does tasting different cuisines enrich you?
I think it is relaxing to both eat good food and also to cook it. It gives you a sense of satisfaction to cook for somebody, especially when you're in a big group and you're trying different things. There's no stress to cooking at home, unlike in Masterchef Australia that my son Arjun watches, where everyone's competing against one another. When you're cooking for friends and family, you're not competing, you're just enjoying yourself.
You've spoken about entrees, you've spoken about main courses. Which desserts do you like?
I love them all! Anything and everything. Occasionally it's good to be fussy about eating sweet things when you're trying to lose weight or trying to maintain the kind of physique you want, but I love to eat all kinds of desserts, Indian as well as Western.
You've cooked for your teammates. Which teammates have cooked for you?
Nobody (laughs) The only one who has consistently cooked for me is my mother, and I love her food the most. She cooks on various occasions even today, especially seafood, and I have told my cook to learn those recipes. He is slowly beginning to cook like her.
What kind of diet do you follow during a gruelling series?
I remember, during the World Cup match when we were to play Australia in Ahmedabad, the weather was really hot. So for three days before the match, I drank a lot of fluids, ate bland food like curd rice. Eating spicy food in that weather would have caused me problems. I thought I should flush out all the masalas and spices already in my system and eat things that are easy to digest. Eventually, you have to trust your gut feeling – you have to know what to eat and what to avoid in a situation.
Again, after you play a really exciting one-day match, you can't immediately go to sleep. After we played Pakistan in the World Cup, we were so pumped up by the win, we couldn't sleep! But we had pasta that night, and the night before, it was pad thai noodles.
Which country has offered you the best food experiences?
It would have to be England, and more specifically, London. London has a great variety of restaurants serving so many different cuisines.
Which is the most awful thing you've eaten?
Spoilt seafood. Also, if you're trying to lose weight, spoilt seafood will do it for you (laughs).
What kind of food are you currently having?
I'm avoiding the fatty stuff. Like I said, you need to know when to eat, what to eat. I'm following a particular diet for the upcoming series. At this stage, I know exactly when I can afford to eat certain kinds of food.
Why do you think some people are vegetarians? Have you ever tried to be vegetarian?
Yes, I've tried to be vegetarian, but it has happened only in patches (smiles). It's difficult for me. I was brought up on non-vegetarian food, so I find it difficult to give it up. But I don't mind eating good quality vegetarian food.
Which is the best Maharashtrian food you've eaten?
My mother's home made food. I love everything she makes. I love her varan bhaat the most, especially after a long overseas tour, because you don't get it anywhere outside. I prefer varan bhaat with a bit of lime on it.
Has there been any coach who was not very disciplined with your food habits?
It's not the coach's responsibility to look at what players are eating and not eating. It's the player's responsibility to know what is good for him or not.
Are your teammates as adventurous about food as you?
Not all of them. Zaheer Khan, Ajit Agarkar and Yuvraj are quite adventurous; we always try out different restaurants and different cuisines. Most of the other guys prefer Chinese or Thai food.
Do you watch any food shows?
Only Masterchef Australia with Arjun.
Are you superstitious about certain food? Do you think eating something will bring bad luck?
Now you've put one more thing in my head! (laughs) No, I'm not superstitious about food at all.