Diaries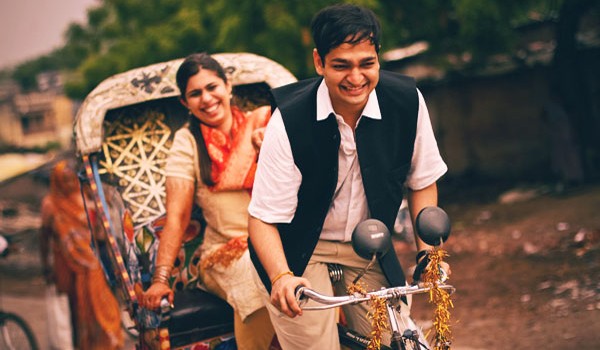 Published on November 2nd, 2012
0
Of chemistry and flashbulbs
It's not enough to change your FB status to 'Engaged'; you need a perfect photo. Pre-wedding shoots are the answer.
by Ritika Bhandari
Part I of the Shaadi Mubarak series
As the cool November air brings with it the whiff of an upcoming wedding season, you will see the shaadi shenanigans begin in every household of your building society. Open the newspaper, and the pink-and-yellow advertisements scream Shaadi Utsav 2012. Everyone seems to be in a hurry to marry, and once the preparations for the final wedding day begin, there is little room left for the blissfully-engaged couple to enjoy a few quiet moments.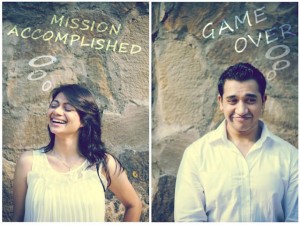 As photographer Raphael Das says, "A pre-wedding shoot gives the couple a collection of pictures, which they may not be able to capture at a later date. After the wedding, life gets busier. As time passes on, their first anniversary approaches and the couple realises that it doesn't have a collection of its own pictures.  So people prefer to do a small shoot of very personal pictures." Based in Malad, Das has done quite a few pre-wedding shoots already. He feels that a couple of hours spent together can become moments which shall be cherished for a long time.
While photographer Deepa Netto believes, "It's (a pre-wedding shoot) the perfect chance to get some amazing casual portraits and the perfect excuse to get away from the wedding preparation chaos."
The concept of pre-wedding shoots has its roots in the West, where couples send wedding invitation cards with a picturesque photograph of the soon to-be married duo. The colourful frames aim to reveal the chemistry in a jovial, tender and candid style. With locations that epitomise special moments, the idea of a pre-wedding shoot is now trending in Mumbai.
When 28-year old Dipshika Das, a software professional, decided to take the plunge with her lover Novin Vathipatikkal, she wanted him to feel special. "After five years of being together, I wanted the shoot to be something which was 'not normal stuff'. So with nothing pre-decided, we took Deepa to Kharghar and got a collection of personal moments clicked," says the happily-married Das.
Be it a couple living in our concrete jungle or another whose head-over-heels love story started with a glance at the Mumbai airport, the shoot not only ushers in a sense of hushed intimacy, but also prepares the bride and groom to face the arc lights at their wedding. Das reveals, "The shoot even works as an icebreaker with the photographer, and increases the comfort level of the individuals in front of the camera."
Deepa, a Navi Mumbai resident, says that themes for the shoot are usually dependent on client ideas. "What I really look forward to is capturing the couple's story with a fun element. Sometimes they can be absolutely goofy, while others tend to be romantic," she says.
So where do our Starbucks-loving, new generation couples wish to be clicked? "It is mostly out of Mumbai, they like to drive down to Karjat. The Vasai fort and the Madh Island beach are also popular," says Raphael, who refrains from pushing any themes for the shoot. He believes that the comfort level of the couple matters the most.
Deepa's shoots have taken her to South Mumbai locales like the Gateway of India, Flora Fountain, Marine Drive, Colaba, Worli Seaface as also the Manori beaches and the rocky, quaint areas of National Park, Aarey Colony and Kanheri Caves.
For Ian Gallyot, the shoot with Raphael at Silver Beach in Juhu captured the spirit and essence of getting engaged to his wife, Melissa. He says, "We used his brilliant and wonderful snaps to make a coffee table book. Also, we designed our wedding invitations with our favourite photograph of us walking on the beach."
So if you are bitten by the social media chromosome, share your chemistry with a pre-wedding shoot.  Or use your creativity to make a wedding website to invite your nearest and dearest.
After all, it is the photographer's helpful remedy to the pre-wedding jitters of the flashbulb.
(Pictures courtesy Raphael Das, Chasing Dreams Photography)
Shaadi Mubarak is a series that captures the essence of weddings in Mumbai. Watch out for Part II.