Places
Published on January 31st, 2013
1
The mother of all bicycle rides
Gurpreet Bilkhu cycled from Manali to Khardung La, and learnt that in the mountains, it's a ride, not a race.
It was mid-July when my friends and I were planning a cycling expedition somewhere outside Mumbai. As a member of several cycling groups on Facebook, spotting one was not difficult. A friend commented on an upcoming tour from Manali to Khardung La – the world's highest motorable pass. After going through the tour details, as I flipped my table calendar to look at the dates, the picture for the month of August was that of Pangong Lake. For me this was a sign and I knew then that I was hooked!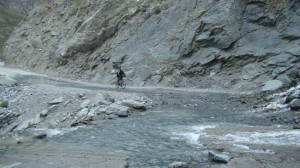 From the many who started planning, only four of us tentatively confirmed, of which two were most certain to undertake it. I started my preparations with a friend. I must admit that I am just a leisurely rider. I've done long weekend trips of over 150 km but these are more like picnics where we ride at a normal pace. Now, planning a 570-odd km ride over 11 days appeared next to impossible (i.e. about 50-60 km of riding daily on an average). We had only about three to four weeks to work on our fitness and endurance levels, fix our bikes, prepare for the trip in terms of getting the right clothes, gear, equipment, etc. and this was along with working full time!
The biggest challenge was riding at such a high altitude because the environment could not be replicated in a city. We had no clue on how our bodies would react to the daily strenuous uphill climbs that too in a rarefied atmosphere where oxygen was a luxury. Preparing ourselves mentally was the most essential preparation because we would have to face not only the inconceivable but also the inevitable.
As the days drew nearer things got tougher. I met with an accident on one of my practice rides. My friend also met with an accident and was advised three months of rest and two others also dropped out eventually. I undertook the trip anyway. I took a train to Delhi and then a bus to Manali. The bike was packed in a box in a semi-dismantled condition.
The ride:
Day 0 – A ride around Manali upto Solang; about 35 km.
Day 1 – Manali to Marhi; 35-odd km, elevation gain 1,250 m
Day 2 – Marhi to Sissu via Rohtang Pass; 55-60 km; elevation gain 1,600 m
Day 3- Sissu to Jispa; 65-70 km; elevation gain 600 m
Day 4 – Jispa to Patseo; 35 km; elevation gain 500 m
Day 5 – Patseo to Sarchu via Zing Zing Bar and Baralacha La; 60-70 km; elevation gain 1,400 m
Day 6 – Sarchu to Pang via Gata Loops, Nakee La and Lachalung La; 90-95 km; elevation gain 1,200 kms (the toughest and longest)
Day 7 – Pang to Tso Kar via Morey Plains; 60-65 km; elevation gain 400 m
Day 8 – Tso Kar to Rumptse via Taglang La, the world's second highest motorable pass; 80-85 km; elevation gain 900 m
Day 9 – Rumptse to Leh; 90-95 km; elevation gain 450 m
Day 10 – The big climb to Khardung La; 80-85 kms; elevation gain 2,100 m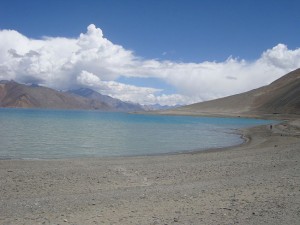 We encountered mixed terrain all along. We found ourselves riding through flower-filled valleys, cedar and fir forests, passing through numerous villages at Manali and then moving to road jams with traffic at Rohtang Pass due to the slush. We experienced off-road terrains on our way to Baralach La. The toughest were the 21 hair pin bends called Gata Loops. Morey Plains is the waterless, high altitude desert of the Tibetan Plateau, and riding through it, after all those climbs, felt like an aircraft taking off on a runway! The most scenic route was between Rumptse and Leh. We passed the picturesque Miru village and mountains that were maroon in colour!
Do remember this is a ride and therefore never try to race. Go at a pace you can sustain for long, even if you are the last one riding. Never get carried away by adventure, the mountains can be unpredictable. If you push yourself too far too soon, you may probably impair your ability to ride the next day. Try and start as early as possible in the mornings so that you can finish your rides by 3.30-4 pm every day. This will give your body the time to relax and recuperate for the next day's ride.
Never camp next to river sides! The temperatures tend to dip to sub-zero levels during the night. Though most tour operators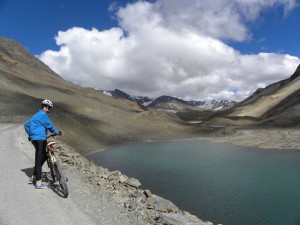 would carry tents and sleeping bags, prefer to sleep in places that are constructed by the locals. These are warmer and far more comfortable than your sleeping bags. Since you ascend gradually, you acclimatise automatically. You may or may not experience mountain sickness. Never ever think how much is left to complete, only look at how much you have covered already. This will motivate you to go on. There will be times when you will feel like giving up (unless you are at a discomfort), don't give in to the temptation. Take a break instead.
The ride to Khardung La has been one of the most enriching experiences of my life, which I will never forget. The tan, the pain, the bruises are all temporary and will fade away in sometime. What's permanent is the achievement that will last forever. In Economics, my professors taught me that money was the only exception to the law of Diminishing Marginal Utility but I just discovered one more – adventure. The more you have it, the more you want to have it more!
Gurpreet Bilkhu is a Worli resident and bicycle ride enthusiast. She spoke to Salil Jayakar.
(Pictures courtesy Gurpreet Bilkhu)