Places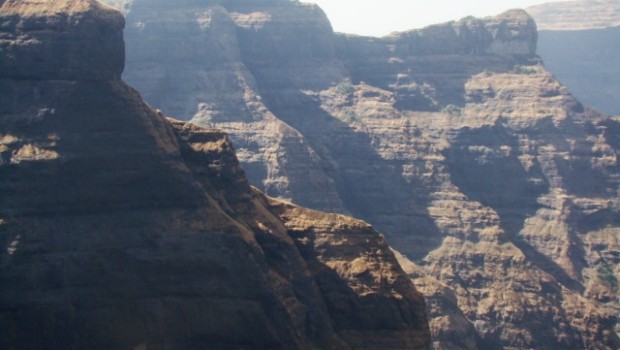 Published on October 17th, 2012
1
Monkey see, monkey do
Going to a tourist spot in the off-season? You deserve everything – rough roads and monkeys – coming your way.
by Vrushali Lad | vrushali@themetrognome.in
There's fairly little you can tell me about the road less travelled. Or rather, about roads that are less travelled in the off-season. Nobody in their right minds would go to a monsoon tourist attraction spot at the height of summer. They wouldn't take less cash along and spend an evening undergoing enforced tourism, because your guide decided to take you on a scenic route to the nearest ATM 30 kilometres away.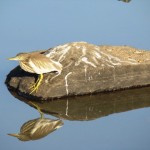 Plus, you wouldn't go trekking on a mountain that is over 4,000 feet high and with increasingly difficult terrain in shoes whose soles let you know the presence of the smallest pebble underfoot. The Princess with the pea couldn't have had a worse time of it on this trek than I did.
Anyhoo, and most importantly for those wishing to incorporate safety in their travel itinerary, ye hardy traveller would not mind roughing it up with the locals in a short jeep ride to Kasara from Shendigaon, Bhandardara. Note that I use the words 'short' and 'roughing it up' airily. If you were ever looking to travel cattle class, with a smelly local under each armpit and two more on your lap in a jeep always listing on your side of the vehicle, with frequent stops to let a few of the aforementioned locals scamper off the roof with their bags of cement and gas cylinders (I kid you not), please buy a ticket for Rs 30 and let everybody and everything pass you by. (Hot tip: Wear nose and ear plugs.)
Also, there is a fair chance of being attacked by monkeys on your trek. I was, atop Ratangad, when I was coming down a rickety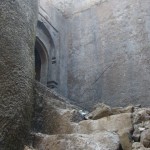 metal ladder literally hanging in air 4,000 feet above sea level. Conceive my emotion when the husband and the guide kept urgently urging me to get down quickly, and on stealing a look at the gathering army very close to where I was a mere minute ago, one of the blasted animals was descending the ladder with me. You could knock me down with a monkey, it was that close. I made the trip down the ladder in relative safety, however, all the while trying to distract myself from the headlines racing through my head ('Band of monkeys trips up stunning trekker', OR 'Braveheart tourist valiantly crosses monkey-infested mountain').
Some tips if you're headed that way:
– If you're going in the off-season, you can get some of the rates knocked off on sightseeing and accomodation.
– If you're going from Mumbai and must take the train, I suggest the Bhagalpur Express that starts at 7.30 am from Kurla that will drop you off at Igatpuri in two hours. Outside Igatpuri, an ST bus will take you to Shendigaon, if you're stopping by at the MTDC or one of the actual resorts there.
– A better idea, which we discovered on the journey back, is to take the local to Kasara from Dadar or CST. From Kasara, take a jeep ride (Rs 30 per seat or more if you book all the front seats next to the driver) to Shendigaon.
– Carry sturdy shoes, a walking stick, loads of sunscreen and bottled water on your trek.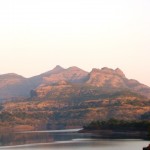 – The local version of haggling includes adding Rs 500 to everything. The trek cost us Rs 600. It's worth it, but don't add more to this sum, since the guide will probably have lunch with you and share your water and toffees and chikki. There are not many interesting points to see. Two days of stay was more than my constitution could stand.
– A good idea is to go to the place in the monsoon, when you carry out your trek next to and through gushing rivers, or when the dam is full and your car actually drives through the dam waters. But if that's not your scene, try for winter. It does get seriously cold, though, so carry your winter woollies.
– And lastly, be safe. The roads are nothing to write home or anywhere else about, and don't go about walking without a guide. There is wildlife in the region, such as cheetahs and wild hogs, and some birds too.
Do you have a hilarious travel account to relate? Write to thetraveller@themetrognome.in with your experience and we would love to feature your story.