Places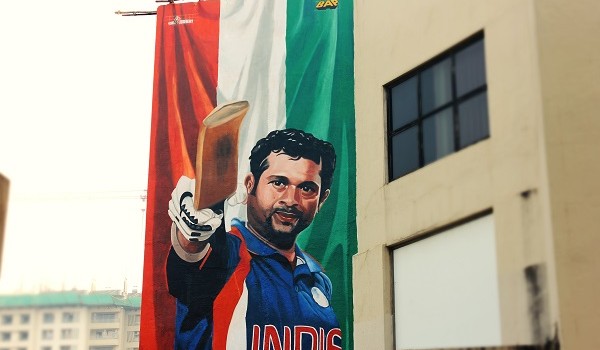 Published on November 12th, 2013
0
A 31′ x 15′ tribute to Sachin
Visual Disobedience and Ranjit Dahiya pay tribute to Sachin Tendulkar by covering MIG Cricket Club's front facade with massive mural.
As the Diwali weekend began, Visual Disobedience, a platform for emerging and unconventional artists, got together with artist Ranjit Dahiya, known for the Bollywood Art Project, to pay tribute to the greatest cricketer of our times, Sachin Tendulkar. In light of his announcement to retire from all forms of international cricket, it was decided that Visual Disobedience (VD) should pay tribute to him through a permanent mural, one that becomes part of the cityscape.
However, it wasn't just about painting a mural; it was as much about where the mural would be. "A set of brainstorms ended up being cyclical discussions in vain – I guess we could call them vainstorms – before someone suggested we approach MIG Cricket Club, Bandra (E)," says Suprateek Chatterjee, Editor, VD. "After all, that is Tendulkar's home turf – a ground not too far from his residence where he has routinely trained for nearly 18 years and, what's more, where his son Arjun comes to train.
"We approached the MIG Cricket Club management who welcomed the idea and offered us the front face of their building as a canvas to be covered by the mural, which Visual Disobedience shall maintain for perpetuity," Suprateek explained.
The mural is 31 feet in height and 15 feet in width, making it the tallest existing mural in Mumbai. It has taken 10 days to complete. It required Ranjit to dangle in mid-air for long stretches and even a near accident.
"As the final Test match between India and West Indies, to be held at Wankhede Stadium from November 14 to 18 draws closer, our hope is that this mural will stand as a permanent reminder of what a life spent dedicated to sporting excellence can lead to," Suprateek said.
"I have been painting for nearly two decades and have painted several murals all over Bandra under the Bollywood Art Project. Cricket is a religion in India and Sachin is a national treasure, and since he is going to be playing his last ever match in this city, I wanted to pay tribute to him. I chose to paint an image of him that is truly inspirational and conveys the passion and intensity he brings to the game," said Ranjit.

(Picture courtesy Visual Disobedience)